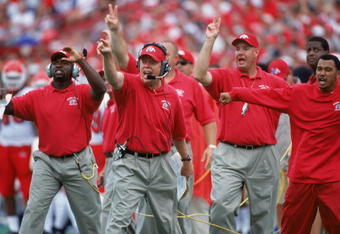 Jonathan Daniel/Getty Images
The Fresno State Bulldogs are less than 48 hours away from taking on the Northern Illinois Huskies in the 2010 Humanitarian Bowl in Boise, ID.
With a win, it would be Fresno State's first bowl game win in three years having lost the previous two bowl games to Colorado State and Wyoming, both of the Mountain West Conference.
This time around, though the other two times weren't much different, the Bulldogs are the bigger and better team. But don't tell that to the Huskies who are coming in angry after having their head coach and a few of the assistants leave for greener pastures just a few weeks ago.
I got a chance to talk to Daniel Lyght who covers Fresno State for the Fresno Bee and got his perspective on the game and what the Bulldogs need to do to come out with a win.
Todd Kaufmann:
Northern Illinois comes in after losing their head coach and a few of the assistants. How dangerous is a team like this that's coming in with a bit of a chip on their shoulder?
Daniel Lyght:
NIU has a chip on its shoulder and the players wants to compete for each other and their interim coach. But teams have a history of not playing well in bowl games after losing coaches. They'll be fired up to get the win but also perhaps a little off because of the coaching change.
Todd Kaufmann:
After the Bulldogs' disastrous performance in their bowl game last year against Wyoming, what are your keys to this game and who's the one guy that needs to step up the most?
Daniel Lyght:
Stopping the run is going to be the biggest key for the Bulldogs. NIU RB Chad Spann has rushed for almost 1300 yards and 20 touchdowns. The Huskies have some quarterbacks who are pretty good at running the ball as well, but none as good as the Bulldogs have already seen this season (Kaepernick, Scheelhaas, Borel). The one guy that needs to step up most? ... Bulldogs QB Ryan Colburn perhaps. NIU will be trying to stop the run as well, so Colburn needs to have a good game throwing to take advantage of that.
Todd Kaufmann:
You wrote an article talking about how many assistants Fresno State has lost in the past. Do you expect this year to play out the same way and, if so, who do you expect to be getting offers from other schools?
Daniel Lyght:
I actually don't think any coaches will leave this offseason.
Todd Kaufmann:
As you know, there's been a lot of talk about Pat Hill and the lack of conference titles during his tenure. If he fails to win the WAC title next year do you think there's any chance the university makes a change especially with the team heading to the Mountain West in 2012?
Daniel Lyght:
I don't think there's a great chance of Hill being fired in that situation. Next year will be the first year of a new three-year contract for Hill. Not winning the WAC would be considered an embarassment by some, but financially speaking, the Bulldogs do not seem to have the money to buy out Hill and hire a new coach.
Todd Kaufmann:
Derek Carr has been getting a lot of hype from fans even going into this season. Do you think Pat Hill will be ready to give Carr a shot at being the starter and do you think he has too much pressure on his shoulders too soon?
Daniel Lyght:
Carr is expected to be the starter next season. He says he doesn't feel any pressure but is excited about what's in store. But tons will be asked of him. He'll have a lot to live up to.
Big thanks to Fresno Bee writer Daniel Lyght for taking the time for the interview. Give him a follow on Twitter (@DLyghtatTheBee) or you can find him in the sports section of the aforementioned Fresno Bee.