The BCS rankings are starting to take shape, and we can see the teams who could get there and the teams that are going to be on the outside looking in.
Already, there's a heavy debate going on between TCU and Boise State as to who should be where in the rankings.
Some say Boise State is the better team, but I'll stay with TCU for now regardless of how Utah did after getting tossed around by the Horned Frogs.
But we're not here to talk about just those two teams. There will be others on the outside looking in and an even bigger argument as to why they're out and two non-automatic qualifiers are in.
That's the life we live with the BCS, and until college football has a run of seasons just like this one, it's a system that we'll have to deal with. At least for the foreseeable future.
I won't give you all 10, but I'll give you a teaser just to wet your whistle. To see the entire article, you can click
here
.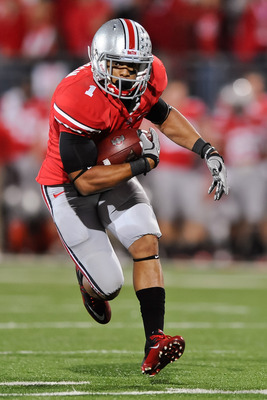 Jamie Sabau/Getty Images
I know this seems like a strange pick, but strange things have happened.

Their win over Miami isn't looking as good as when they first got it. They have a loss to Wisconsin, and the Big 10 isn't looking as strong as it normally would be at this point in the season.

If you look at it this way, there are five BCS bowls for 10 teams. Someone is going to get left out. Ohio State is normally not a team the BCS reps would pass on, but then we can never predict what they're going to do.