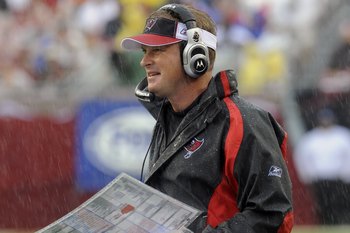 Al Messerschmidt/Getty Images
When it comes to Jon Gruden, we've heard every rumor that's made their way on to a blog or any kind of news network. Each one shot down with the rest.
However, this one might have legs to it.
According to
National Football Post,
the Cleveland Browns could be looking at Gruden as their next head coach.
I'm not going to dispute the rumor as I haven't heard a single report from any other national network, or Gruden himself, shooting down this rumor but what I will say is I can't imagine Gruden taking this job when the head coaching gig with the Dallas Cowboys could be open come season's end.
I have nothing against the Cleveland Browns by any stretch, but it's not exactly the most lucrative job either.
Gruden has been mentioned alongside the head coaching vacancy at the University of Miami and has been thrown into other college coaching rumors as well, though I never heard his name coming at Florida.
We'll have to wait and see what Gruden does at this point but, if I'm a betting man, I'm putting my money on this rumor being like all the rest.
Untrue.
If you're a Browns fan, is he the guy you want and is he the absolute right man for the job?