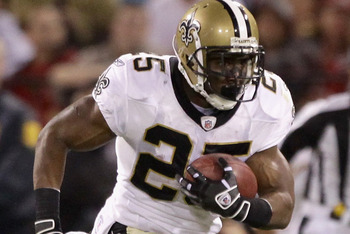 Ezra Shaw/Getty Images
The 2010 season is not one that New Orleans Saints running back Reggie Bush will look back on fondly. While he spent most of the season battling injuries, he'll also remember 2010 as the year he voluntarily gave back the Heisman Trophy he won as a member of the University of Southern California.
Not exactly a memory he wants to remember.
However, that might be the least of his worries. According to
Alex Marvez of Fox Sports
, Bush's career with the Saints might be coming to an end.
Saints' general manager Mickey Loomis, while on NFL Radio with Marvez and co-host Jim Miller, told them there was no question the team wants to sign quarterback Drew Brees for the longterm. But when it came to Reggie Bush, Loomis was anything but clear on the running backs' future.
"We've talked a lot about the position (internally) because we had a lot of injuries," Loomis told Marvez and Miller. "It's pretty difficult to prognosticate injuries. I've got to be a little careful about just because a guy was hurt one year assuming he's going to get hurt the next. We're going through that evaluation process right now."
To me, it sounds as if Bush might be seeing his time with the Saints come to an end. Though he's made it known he would be willing to renegotiate his rookie contract in order to stay with the team, there's no telling if the Saints are willing to continue to have the same relationship.
A little more than 800 miles to the north, up in Cincinnati, another controversy is brewing and another former USC Trojan could be seeing the end of days with his respective team.
Cincinnati Bengals quarterback Carson Palmer has made it clear he no longer wants to be a member of the Bengals and has asked the team to trade him or he would consider retirement. To this point, the team has no plans to give him what he wants.
In a story from
Cindy Boren in the Washington Post
, ESPN's Chris Mortensen cited sources that said Palmer is financially secure and the threat of retirement is not an idle one.
Two former USC players, two different situations, both seem to be at a crossroads in their respective careers. One thing they may have in common is the ability to bring change to another NFL team in the state of Texas.
It's no secret the Dallas Cowboys need a change on the offensive side of the ball to improve the team from their abysmal 2010 season. A season where they would win just one of their first eight games before firing head coach Wade Phillips.
While there is a love affair with quarterback Tony Romo regardless of being able to lead the team anywhere when they do get to the playoffs, one position the team needs to upgrade badly is at running back.
Fans have tired of Marion Barber and haven't seen enough of Felix Jones or Tashard Choice to believe they can be the next big thing in Dallas. They were spoiled with long time running back Emmitt Smith and having not seen anything like him since his retirement has brought a lot of frustration down on Cowboys' owner Jerry Jones.
It looked like Barber was going to be the heir apparent for awhile, but as soon as he was given the starting job it quickly became clear that he wasn't ready to be an every down back.
Choice has made his share of big plays and, when challenged by Jones in the media, came up with a huge game to prove he be starting material.
However, the Cowboys still need one guy that can make an immediate impact. Not necessarily a guy who can come in and be the starter right away, but a guy who can line up with Choice and make defenses think twice about keying in on one guy.
Bush brings speed as well as the ability to catch the ball out of the backfield. He can take pressure off of the other running backs as well as off of Romo who, at times, seems to have to do things on his own.
As for Palmer, most will tell you that he won't accept a backup job anywhere. While I can understand that sentiment, the Cowboys need a backup quarterback not named Jon Kitna. He did a respectable job when Romo went down, but if it happens again, the Cowboys need a guy who can come in and not miss a beat. Not only that, but a guy who can be just as good if not better going forward.
For those of you who have read my thoughts on the Cowboys, and Romo, in the past you know I'm not a fan of his nor do I think he's the right quarterback to get this team over the hump and back into the championship spotlight.
That being said, maybe having a guy like Carson Palmer would help push Romo a little bit harder. Maybe it would force him to play at another level knowing he has a proven NFL starter behind him waiting to take his job.
However you want to see this, the one thing that can't be questioned is the number of changes that need to be made to a team that was a foregone conclusion for the Super Bowl more than 15 years ago.
Now, fans wonder if they'll get out of the first round of the playoffs or even get that far.
You may not be a fan of Palmer or Bush for that matter, but these two guys can provide a spark that is badly needed at Cowboys Stadium.
Jones can draft all the guys that he wants, but he's shown over the past few years that he's lost his touch. The past two drafts have been a flop and it's time that a new strategy is put in place. One that will bring this team to a new level of success.
These two guys might not be the most popular names in town, but fans in Dallas are ready to try anything to see their team as Super Bowl champions again.