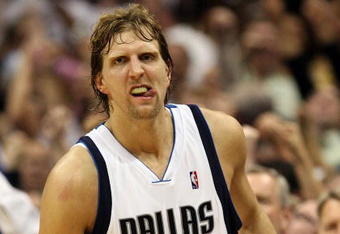 Ronald Martinez/Getty Images
The Dallas Mavericks, over at least the last decade, have been one of the best teams in the Western Conference. Not only that but they have one of the best players in that same conference perhaps even the entire NBA.
But that hasn't been enough in the past and it's not going to be enough this time around either. This doesn't just hang on Dirk Nowitzki's shoulders, losing Caron Butler will be the biggest blow to this team's chances of getting through the first round of the playoffs. Let alone get back to the NBA Finals.
Throughout the Dallas/Ft Worth metroplex, Nowitzki is seen as the golden child, the face of the franchise, the Michael Young of the Dallas Mavericks.
Be that as it may, but he's not the guy that's going to get them over the hump. He's been given that chance and he hasn't been able to get it done. You can say he didn't have the right players around him but that statement isn't exactly true when Dirk didn't get this team to the NBA Finals all by himself.
In 2011, Dirk has solid players around him. Guys that can make this entire team run without their star. The only problem is the team isn't running with Dirk on the sidelines with a knee injury. While Jason Kidd, Jason Terry, DeShawn Stevenson, Shawn Marion and Tyson Chandler try to hold this team together, they showed they're not good enough after being beaten easily by the San Antonio Spurs on Friday night.
Dallas is a town that has been waiting for a championship for the past 16 years, the last time the Dallas Cowboys brought a Super Bowl home. Since then the Cowboys have one playoff win and both the Texas Rangers and Dallas Mavericks both have appearances in the big game but neither have been able to get it done.
After an abysmal season from the Cowboys in 2010 the fans here expected big things from the Mavericks and after a 22-5 start it looked like they were going to get their wish.
Since that time the Mavericks have won just four of their last 11 games including four straight losses and no end in sight.
Though we can talk about Dirk coming back and putting this team on his back, if he tries to do it himself you may as well call this season over and get ready for the 2011-2012 season. Dirk can't do it by himself and he's not the kind of player that should be expected to.
We can talk about the Kobe Bryant's, the LeBron James', the Ray Allen's, and so on but for my money Dirk Nowitzki doesn't belong in that category.
I'm not saying he's not a great player because he can do what a lot of players his height can't do. Not only can he hit the outside jumper but he can grab the rebounds underneath and get physical in the box when the team needs it.
However, when he's left one on one he's not going to beat many defenders off the dribble.
Mark Cuban needs to look at this team's future and realize he doesn't have the players or the team together that's going to be able to hang an NBA Championship banner at the American Airlines Center in downtown Dallas.
Maybe it's time for him to think about rebuilding this team and doing so without Dirk Nowitzki. The Mavericks haven't accomplished their ultimate goal with him, who's to say they can't deal him for the right players to bring that ultimate goal home?
Sure it's not a popular decision and one that Maverick fans will hate, but what do they want more? Do they want the face of their franchise for as long as he's willing to stick around even without a championship or dealing him now and finally getting that illusive NBA title?
To me, that's not a difficult decision to make.