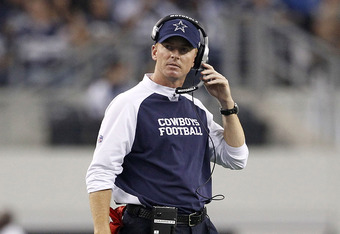 Leon Halip/Getty Images
Since their last Super Bowl victory in 1995, the Dallas Cowboys have since won just a single playoff game in 16 years. That's what I would call far less than mediocrity and here I thought that word was as bad as you could get in sports.
Apparently not.
This afternoon, the Dallas Cowboys announced a four-year contract for their new head coach. No, it wasn't Bill Cowher, Jon Gruden is still in the broadcast booth and Jim Harbaugh is still with Stanford. At least for now.
So if it wasn't those three big name coaches who did Jerry Jones bring in? After a dry spell like they've had surely Jones would want a proven coach who has been to the Super Bowl and knows what it takes to bring home the biggest prize in the industry. Surely he wants to bring a championship back to Dallas to show off in front of the home fans as well as the bandwagon jumpers.
For those of you think like I do, unfortunately we were both wrong. Jones decided to bring him yet another "yes man" to be his next puppet also known as the next head coach. Ladies and gentlemen, boys and girls, children of all ages I present to you the new head coach of the Dallas Cowboys, Jason Garrett.
HUH?
Yes Cowboy fans you can rejoice that a brand new era is about to begin in Arlington and it will be under good ole 'red head' himself.
Now before you Cowboys fans who still have their blinders on start ranting and raving about how he "earned" this job I would love for you to tell me how he earned it? And don't give me "he finished 5-3 when Wade Phillips was only 1-7," speech. I'm bored with that one already and it has nothing to do with that.
Garrett was going to be Jones' boy regardless of who the owner should have hired. It didn't matter how Garrett did when he took over for Phillips, he knew he had the job wrapped up.
Jones is not going to give up control to anyone. That being said I do know that Jones has given final decision rights in hiring and firing of assistant coaches to Garrett. But that's not saying a whole lot because you know Jones is going to give his opinion and if Garrett does end up hiring the guy Jerry wants, he can still say "hey, it was my head coach's decision not mine."
As you can tell I'm not at all sold on this hiring and I think it has everything to do with Jerry's ego and not on the right guy being hired. If Jones wins a Super Bowl with Garrett as his head coach, he can say "see, I told you I didn't need a proven coach."
Ego wins the day. Better get used to what you've had over the last 16 years because there's more where that came from.