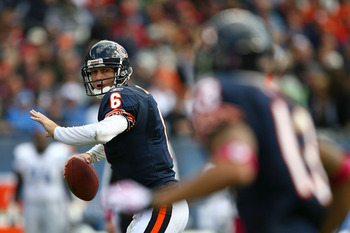 Jonathan Daniel/Getty Images
From the moment he left the field, Chicago Bears' quarterback Jay Cutler became the most hated man in the Windy City since Steve Bartman and the "catchable ball" incident at Wrigley Field.
While I might have given Cub fans a pass on that particular day, I will not give Bears' fans a pass for this one.
But it's not the fans that have me shaking my head in disbelief. It's fellow NFL players.
Some of them have taken the twitter and called out Cutler for not going back into the NFC title game to help his team. What's funny about that is, some of those same players won't make the same comments on the record to a reporter. Why is that?
Why not find the closest reporter or, better yet, why don't you call a local columnist on the phone and go on the record with your comments. I know they can use your tweets in their columns but wouldn't it be better if you manned up and did it over the phone or in person?
It just seems to me that Twitter is an easy way out. It's like calling someone out by email. It's easy sit in front of a computer screen and be the tough guy, acting like you would have gone against doctor's orders and put yourself back in the game.
Let's pretend for a minute that Cutler did go back in the game, with the injury he sustained, and he ended up costing the Bears the game by being immobile and unable to evade a rushing lineman or linebacker. The fans would have learned of his injury and his going against the doctors telling him not to, and they would have jumped all over him in the same way.
Thus is the life of an NFL quarterback. They all know that it comes with the territory. They expect harrassment from fans and they expect it to a certain extent from the media both in print and in radio/television.
The one place they don't expect it is from their peers.
Say what you want about Cutler not coming back in the game but it's not necessary for these fellow players to blast him. There's no point in pouring salt on the wound no matter how much they want their fans to like them.
You can call it "saying what they want to hear" but when it's their turn to play through an injury, I hope they're ready for backlash from fans, media, and other players as well.
What I respect is seeing Bears' linebacker, and face of the franchise, Brian Urlacher quickly come to the aid of his teammate. He tried to remain calm through all of the questions fired at him from the reporters in the locker room, but when told of other players blasting Cutler, Urlacher wanted names. He wanted to know who these players were and why they were saying anything at all.
"Yeah, love jealous people when they're watching our game on TV while their season is over,"
Urlacher told the media after the game
.
Even syndicated sports talk show host Jim Rome fired back at these players as well,
via Twitter
, saying "Unless you're willing to say it to a reporter, don't say it on twitter. There is no difference."
Cutler is going to go through a ton of scrutiny and back lash during the off season. He'll deal with reporters calling him for comment every day or at least every other day. They'll want to know how he wants to respond to the latest outcry from fans and players alike. He'll try to shake it off but inside there's no question that he would love to blast those players who decided it was in their best interest to pile on.
The Chicago Bears missed their chance at another Super Bowl appearance. Blame Cutler if you want, but maybe you can blame President Obama for jinxing his team days before the NFC championship game by saying he would be at the Super Bowl if they got there.
They were doomed at that moment. He should know better than to go against superstition.
Cutler deserves more than what is being said about him. When doctor's tell the head coach they are not clearing him to return, that should be the end of the story.
Sure NFL players will say "we're tough, we can handle it." But when that injury takes it's toll after their playing career is done, maybe they'll look back on that decision and wonder why they didn't listen to the medical professionals in the first place.
You may not like my opinion but I'm completely fine with that. Take your frustration out on Cutler if you wish, but there is more blame to go around than a quarterback not returning to the game despite an MCL tear.
Come to think of it, maybe Chicago would love to have Rex Grossman back.