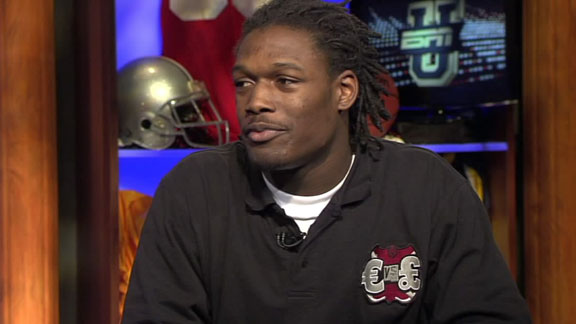 Jadeveon Clowney walked out wearing garnet and black and, after a few long pauses, ended up choosing South Carolina. Somehow we were supposed to be shocked. No such luck.
Unfortunately, a day meant for love became moments of awkward pauses as ESPN made the young recruit wait to make his decision. You could clearly see how uncomfortable he was and it almost looked as if he was ready to get it over with and leave the stage.
Not that there was any suspense to the decision as Clowney came out wearing South Carolina colors. I'm not sure why ESPN was making him wait as the suspense was already over with from the moment he walked out.
It's not the first time the self proclaimed "World Wide Leader in Sports" has botched something like this. You might remember all the criticism they received after "The Decision" with LeBron James making his anti-climactic decision on signing with the Miami Heat. That decision, though James said "no one knew what it would be" forgot that information leaked that he had reserved several bungalows for a party in South Beach that night.
Gee, I don't think James would re-sign with Cleveland and stick around in Miami to party it up in a city he had just scorned. But I digress.
As for Clowney, he becomes another top recruit for head coach Steve Spurrier as he tries to put his South Carolina program on top of the Southeastern Conference. A feat that won't be easy to accomplish as Alabama, Auburn and Florida, along with a few others, might have something to say about that.
Now that National Signing Day has officially come a close, finally, we can turn our attention to spring practices which will be taking place in just over a month and stop watching young high school athletes choose a hat.
I'm not sure why we tune in to watch stuff like this but sometimes it's awkward moments like the one that took place today that make us unable to turn away from it.
But, in the words of the great
Gregg Doyel of CBS Sports
, "I'm watching ESPN just to see where some 17-year-old will go to school. Hi, my name is Gregg, and I have a problem."
Couldn't have said it better myself.
You can follow me on Twitter or find me on Facebook