It's not the first time 105.3 FM The Fan in Dallas, Texas has tried to shake things up but this time it seems they are trying to make bigger changes in order to compete with 103.3 FM The Ticket also in Dallas.
For those of you who have been loyal listeners, your morning commute will have a much different sound come April 11th.
Out are long time radio voices Jagger and Gregg Henson as neither of their contracts were renewed by The Fan.
Instead, according to
Richie Whitt of the Dallas Observer
, Shan Shariff, a former Kansas City sports talk show host, and RJ Choppy, formerly of ESPN Radio in Dallas, will be your new voices in the morning on the 5am-9am slot.
I've gotten to know Henson over the last six to eight months and enjoyed the person he was away from the radio airwaves. Originally from Detroit, Henson made himself known alongside Paul Barsky during the afternoon drive time.
Henson would then join newcomer Gavin Dawson when Barsky was moved into the morning slot alongside Jagger and Jasmine Sadry.
When Barsky's contract wasn't renewed by The Fan, Henson was moved into his spot in the morning and the rumors began that Henson was sitting in what was called the "cursed chair" by listeners of the morning show.
Now, it seems the listeners couldn't have been more right.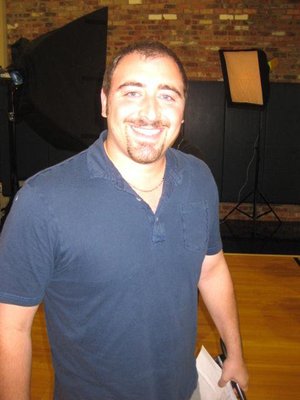 RJ Choppy

While I don't know Shariff, I have gotten to know RJ Choppy. He's going to be a great addition to the morning drive slot and I know fans of the Dallas radio station will enjoy him as well.
The only thing he may need to change is the fact he's a Yankee fan. Once that little nugget of information comes out, the Ranger fans won't let him hear the end of it.
Get ready for a new station with new voices in the morning. The rest of the lineup will remain the same with Newy Scruggs from 9am to 11am, Josh and Elf from 11am to 2pm, RAGE with Richie Whitt and Gregg Williams for your afternoon drive time (2pm to 7pm) and the evening normally finishes with Arnie Spanier.
Whether or not this change works for The Fan is yet to be seen. But, I know RJ will do a great job as he has a ton of sports knowledge and brings a lot to a radio show.
I wish him the best with his new position and I also wish Gregg Henson the best wherever he ends up. He has a great heart and a lot of experience in the radio industry.
Follow Todd Kaufmann @T_Kaufmann on Twitter or find him on Facebook