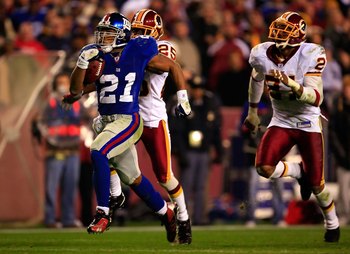 According to
Maxx Talent
, an agency that represents broadcasters as well as current and former pro athletes, former New York Giants' running back Tiki Barber has notified the NFL that he plans to come out of retirement and play in 2011.
In 10 seasons in New York, Barber ran for more than 10,000 yards (10,449) from 1997 to 2006.
However, what got Barber noticed on the national stage was his mouth. After his playing days were over, he spent a lot of time as an analyst and was critical of not only his former coach, Tom Coughlin, but also the leadership abilities of quarterback Eli Manning.
Next to that, his personal life has
also made the tabloids
. Last year, Barber and his wife of 10 years, Ginny, filed for divorce after allegations of unfaithfulness on Tiki's part. There were reports that the former running back was broke and couldn't afford to pay the divorce settlement with his ex-wife.
That could be the sole motivating factor on returning to the NFL. Keep in mind that when Barber retired he still had two more years left on his deal with the Giants which means they still own his rights. But don't expect New York to be overly excited about bringing him back.