The Texas Rangers are one week away from Opening Day 2011. They're also one week away from defending their 2010 American League Championship.
While this should be a time for excitement, it took just one decision late yesterday to turn the excitement to all out pessimism.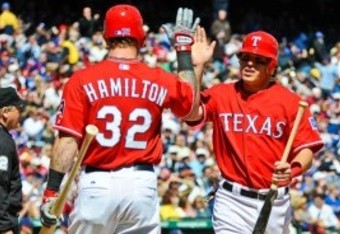 Neftali Feliz, the Rangers' soon to be 23-year old closer, began toeing the rubber as a starter during spring training. The team wanted to know if they could move him from the back of the bullpen to the starting rotation.
A few days before the decision was to be made, it seemed to most everyone the Rangers had their minds made up and would bring in their young phenom, and last season's Rookie of the Year, to be part of the rotation behind ace C.J. Wilson.
The debate was hot and heavy with most of the polls favoring Feliz's return to the roll of the team's closer. But when the decision was made, it seemed there was more anger toward the team than support.
Just when I thought I had heard it all, after following my twitter timeline and seeing all those who couldn't believe the decision the Rangers had made, the sky officially began falling on a local sports talk radio station here in town.
Everything from the Michael Young situation to Feliz not being a starter to the rotation being "not scary to anyone."
While I wanted to shake my head and turn the channel, I began to realize that this shouldn't come as a surprise prior to the baseball season. This team has had low expectations before every season that came around. So, really, this wasn't much different.
I'm not going to sit here and fire aimlessly at the two hosts who, despite the team making it's first ever run to the World Series, seem to be back on the "we expect nothing from this team" bandwagon.
Sure, the Rangers don't have a Cliff Lee to boast and they don't have a big name in either the rotation or bullpen to make anyone believe they are capable of duplicating the season they had last year.
However, even Cliff Lee couldn't get them to a World Series championship. The San Francisco Giants were the better team. It was just that simple.
This season, the Rangers have an offense which will be a struggle for any opposing pitcher to face.
They have speed at the top of the lineup with shortstop Elvis Andrus and Ian Kinsler. After that, they have a power surge with center fielder Josh Hamilton, right fielder Nelson Cruz, and third baseman Adrian Beltre. Then a back end of the lineup with left fielder David Murphy, first baseman Mitch Moreland, and catchers Yorvit Torrealba or Mike Napoli, who can do their own share of damages.
But there's one card the Rangers can play, an ace in the hole if you will, that can give their offensive lineup an even bigger boost.
Michael Young can fill in at first, third and also at the designated hitter role. Putting him in the third spot behind Ian Kinsler and in front of either Hamilton or Cruz gives the Rangers' front six as dangerous as any lineup in the American League.
We can talk about the young pitching rotations with the Oakland A's or Los Angeles Angels of Anaheim but how did that work out for them last season?
One of the arguments against Texas is how they don't have a bonified "ace" in their rotation. One radio host threw in Angels' ace, Jered Weaver. While he's a solid starter and as talented as any young pitcher in the big leagues, his lack of offense neutralized any effect he might have had on the American League West race last season.
I can understand the concern of having to count on C.J. Wilson to have the kind of season he had last year. But comparing his success, or possible lack thereof, to Scott Feldman I think was a little far fetched. Sure they can used that as an example and say "what if," but my retort to that is Wilson is a much better pitcher than Feldman.
The blast against Tommy Hunter, however, is about as premature as one will find.
The 24-year old right hander finished 13-4 last season with a 3.73 earned run average. It was his first full season as a starter in Texas and while his name alone may not scare hitters, his stuff and his ability on the mound are all the Rangers are asking from him.
I remember before the Rangers' 2010 season began, listening to this same sports talk station here in town and hearing a caller say "no one cares about the Rangers."
That fan had to stick his foot in his mouth after having to listen to more coverage of this team than the Dallas Cowboys and more excitement at Rangers' Ballpark than at Cowboys' Stadium.
There are those who are already worried about errors and bad numbers during spring training so I'll leave those of you who are worried with this thought.
Last year, this team finished with a 10-19 record after spring training ended last season. That same team won the ALCS and went to the World Series.
Don't put much, if any, stock in spring training numbers. It's not what they do in Arizona, it's what they do for 182 games from April to October that matters.
This team has just as much talent this season and they have the same kind of ability to go as far as they did this season as they did in 2010. It's the media's job to put doubt in fan's minds and believe me they are very good at it.
But I'm not going to listen to their "sky is falling" theories. I'm ready to roll with a team who I believe can duplicate their 2010 season.
All they need to do is win the AL West. Once that's accomplished and October baseball rolls around, anything and everything is possible.
Follow Todd Kaufmann @T_Kaufmann on Twitter and find him on Facebook