If the Texas Longhorns thought the decision on who their quarterback would be was going to be easy they might have a different thought after their spring game over the weekend.
Most thought second year starter Garrett Gilbert was going to be the man under center though don't tell fans that. However, a new name has emerged and he has a last name all Longhorn fans are more than familiar with.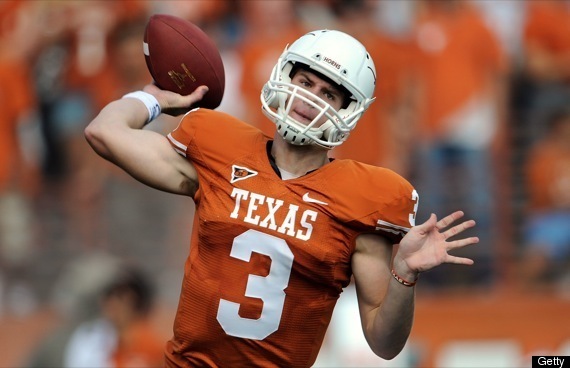 Case McCoy, the younger brother of former star quarterback Colt McCoy, shined on Sunday throwing for 124 yards and a touchdown, most of that coming against the first team offense. While Case was shining, Gilbert was doing just the opposite.
The man fans threw their anger at didn't show he was much better than last year. He completed just 8-of-15 passes for 76 yards and an interception. Definitely a big difference in the two, right?
So what happens from here?
"We obviously have a decision to make at quarterback," head coach Mack Brown
told the Associated Press
. "We don't think anybody is ready to take over at this point. There's so much to this offense. It's a bear."
While most will tell you the team is going to go with a guy already familiar with the 'Horns offense, I on the other hand am going to go in the opposite direction.
The Texas Longhorn fans are not used to watching their team play embarrassing football and finishing a season with seven losses to just five wins, something they had to deal with in 2010. If they want to win it might be a good idea to think outside the box.
Offensive coordinator Bryan Harsin said of Case "The bottom line is going from point A to B. Case did a nice job getting us in the end zone." If that isn't a slight shot at Gilbert I don't know what is.
Case may be a first year starter coming in to the 2011 season but since this young man has been able to learn from his older brother and grow up with one of the best quarterbacks in Longhorn history, he may be farther along than even the coaching staff realizes. Something that showed in more ways than one on Sunday.
They need a return to dominance in the Big 12, especially since most believe Texas will be on their way to independence in the next few years especially after their fairly large television deal they inked with ESPN.
For right now, there isn't going to be a decision for the foreseeable future. They aren't going to lean one way or the other so we're going to have to wait another few months before Brown names his guy for the 2011 season. Unfortunately, I don't see brown handing over the keys to the Longhorn offense to a first year quarterback no matter who he's related to.
I know they handed the keys to another first year guy last season but I don't see Brown doing it again. He took one chance, he's not going to take another.
There will be a quarterback controversy until possibly a month or two prior to the start of the season. Unless Brown wants to keep everyone, including conference opponents, guessing until the last possible moment. If that is his plan, we may not know who the starting quarterback for the Texas Longhorns is going to be until just a few weeks before opening day.
If they want to win, and do so now, Case McCoy is the right choice. Gilbert failed miserably to the tune of 17 interceptions last season. Maybe he turns it around and maybe he doesn't but I don't see Brown as the kind of guy to be living on hopes and dreams in terms of who his leader is going to be.
There's another McCoy making noise and he's a long ways from slowing down.
Follow Todd Kaufmann @T_Kaufmann on Twitter and become a fan on Facebook