The Mountain West Conference will enter the 2011 season without two of their powerhouse football programs, Brigham Young University and the University of Utah, as they head for proverbial greener pastures.
The Boise State Broncos will take the place of one of those teams and is expected to battle TCU for the top spot in the conference.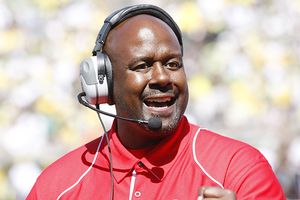 Rick Bowmer/AP
 Another battle which will take place this season is who will lose their job first? While the coaches at the top of the conference are relatively safe, the bottom half of the conference could be hoping for at least a mediocre season in order for them to have another year to work on what has or has not been working.
National Football Authority
takes a look at who is safe and who could be handed the pink slip when the 2011 college football season comes to an end.
Air Force - Troy Calhoun
Coaching Record: Overall - (34-18) Bowls - (2-2)
After winning five of their first six games, the only loss coming against the Oklahoma Sooners in Norman, it looked like Falcons' head coach Troy Calhoun had his team on the right track. A track which could take them to the top of the Mountain West Conference.
Unfortunately, Air Force would drop their next three games against San Diego State, TCU, and Utah before winning three straight against Army, New Mexico, and UNLV to close out the 2010 regular season schedule.
A 14-7 win over the Georgia Tech Yellow Jackets in the Independence Bowl ended Air Force's season on a high note with a 9-4 overall record. Their best record since Calhoun's first season as head coach in 2007.
It's not easy being the coach who replaced Fisher DeBerry. Those are big shoes to fill.
Hot Seat Status: Cool
(there will never be another Fisher DeBerry)
Boise State - Chris Petersen
Coaching Record: Overall - (61-5) Bowls - (3-2)
I don't think I need to say much about the head coach at Boise State University, but I will anyway.
Since Petersen came on the scene in 2006, replacing departed head coach Dan Hawkins, the Broncos have been a mid-major powerhouse. How many coaches do you know who can put up 61 wins in five seasons including two unbeaten and two one-loss seasons?
He is one of the more sought after coaches in college football, just ask Stanford who thought they were going to be the one team who was going to be able to pry him away from Boise, Idaho.
Surprisingly, Petersen decided to remain with Boise State and could be looking at an even more lucrative job somewhere down the line.
Hot Seat Status: Ice Cold
(colder than Alaska in winter-cold)
Colorado State - Steve Fairchild
Coaching Record: Overall - (13-24) Bowls - (1-0)
Steve Fairchild, before being named the head coach at Colorado State, was known as the starting quarterback for the Rams in 1980.
After Sonny Lubick was fired by the school in a controversial decision, Fairchild came back to his alma mater to take over the head coaching duties.
Unfortunately for Fairchild, things have not exactly gone any better for him in three seasons at the helm than Lubick's final two years.
While the Rams would win land a bowl bid in the first season under Fairchild, a 40-35 win over Fresno State, they have finished their last two seasons with a 6-18 record.
Hot Seat Status: Warm
(and getting warmer)
New Mexico - Mike Locksley
Coaching Record: Overall - (2-22) Bowls - (N/A)
Mike Locksley has to be wondering how much worse this could possibly go for his coaching tenure at New Mexico.
Since taking over for Rocky Long, who left New Mexico after leading the team to five bowl games in his final seven seasons, the New Mexico Lobos have been the whipping post for just about every college football team they faced.
After two seasons, Locksley is staring at back-to-back 1-11 seasons and a possibility the school is running short on patience. Whether it is a recruiting problem or scheduling teams too tough for them to be playing, something has to change-soon.
The Lobos do not have quite the schedule they faced in 2010 so maybe things will not be as painful this time around.
Coaching Hot Seat: Boiling
San Diego State - Rocky Long
Coaching Record: Overall - (65-69) Bowls - (1-4)
The San Diego State Aztecs seemed to be on the right track and under the leadership of a head coach who believed in this team and it showed.
Quarterback Ryan Lindley and true freshman running back Ronnie Hillman put their stamp on the Aztecs football team, showing the Mountain West Conference they were going to be a player from here on out.
Then, just as fast as the good news continued to roll in, head coach Brady Hoke departed San Diego to return to his alma mater and took the head coaching gig for the Michigan Wolverines. Just like that, the Aztecs were left without their head man and needed answers in a hurry.
Rocky Long took the position, coming from the University of New Mexico, leaving one Mountain West team to another. He comes in with a team already built for success and will only need to keep that rolling. Time will tell if he is the right man for the job.
Coaching Hot Seat: Cold
(at least for now)
TCU - Gary Patterson
Coaching Record: Overall - (98-28) Bowls - (6-4)
When you talk about TCU head coach Gary Patterson you talk about success and you talk about greatness. Next to Boise State head coach Chris Petersen, Patterson is one of those coaches who just about every other Division-I team would love to have.
Say what you want about the players who have come through the TCU program during Patterson's tenure, the head coach has become a recruiting tool in himself. High school players who are trying to decide where to go only have to look as far as who is coaching the team and the success that coach has had to make their decision so much easier.
Since the team made the transition from Conference USA to the Mountain West, they have had just one season with less than 10 wins (2007). Take that one season away and Patterson's teams have finished with a combined record of 58-6 over the last six seasons including five wins in six bowl appearances.
Coaching Hot Seat: Freezing Cold
(top of Mt. Everest-cold)
UNLV - Bobby Hauck
Coaching Record: Overall - (88-28, 2-11 at UNLV) Bowls - (NA)
Bobby Hauck did not exactly get off to the kind of start he would have hoped for in his first season as the head coach at UNLV. The team finished with a disappointing 2-11 record, the only two wins coming against New Mexico and Wyoming who had a combined 4-20 record last season.
Hauck's success at Montana (80-17) did not translate to a Division-I program but there is no doubt they will give him at least three to four years to try to turn this team into a contender year in and year out.
While he has a long way to go, Hauck will be up to the challenge.
Coaching Hot Seat: Cool
Wyoming - Dave Christensen
Coaching Record: Overall - (10-15) Bowls - (1-0)
Dave Christensen ended his first year as a head coach with a surprising 35-28 win in the 2009 New Mexico Bowl against Fresno State. Though it meant finishing with a 7-6 record, a bowl win was completely unexpected.
One might thing, with that kind of momentum, the Cowboys might carry it into the 2010 season. Unfortunately it didn't quite go down that way.
The 2010 squad finishing with a disappointing 3-7 record including just one win in conference.
One bad season does not spell doom for Christensen as he heads into his third year at the helm but another losing record might turn up the heat just a little bit more.
Coaching Hot Seat: Lukewarm
(wow it's getting warm in here)
Follow Todd Kaufmann on Twitter or become a fan on Facebook