From the first moment you talk to former Fresno State defensive end Chris Carter you realize just how excited he is just to be able to play at the next level. He's up front, honest, and candid about his workouts prior to the draft as well as the emotional roller coaster he and his family went through on draft day.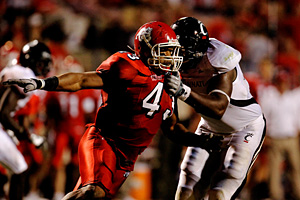 Ric Tapia/Icon SMI

I talked to Carter about where some of the scouts, who saw him on his pro day, thought he might land. "Some told me late second round, others said some time in the third round," Carter told me. So you can imagine his heart beginning to drop and his frustrations growing when the second round, then the third, then the fourth came and went.
"I didn't know what to think," Carter said. "I started to wonder if my name would be called at all."
When the phone rang and Pittsburgh Steelers head coach Mike Tomlin was on the other end, Carter did something he didn't expect himself to do. "The tears just started flowing," he told me with a laugh. "I'm a defensive end, I'm supposed to hit people and make them cry but here I was with tears running down my face."
But before Steeler fans begin to think he's a softy, you might want to think again. Carter is explosive off the ball and was a huge playmaker for Pat Hill and the Bulldogs at the defensive end position. His quickness allowed him to be one of the fastest at his position in Fresno State football history.
I asked Carter to describe himself to Steeler fans who have never seen or heard of him before. He used words like 'explosive,' 'tough,' and 'hard worker.' Those who know Carter or who have had the chance to play alongside him know those words sum him up nicely.
He's not the biggest lineman in the draft and he may not even be the best, but this is an athlete who Tomlin is going to be able to put to good use.
Follow Todd Kaufmann

on Twitter

and

become a fan

on Facebook