There are a few head coaches in college football who remain at their current jobs when most of wonder what keeps them from moving to a big time, BCS school. One of those is TCU head coach, Gary Patterson.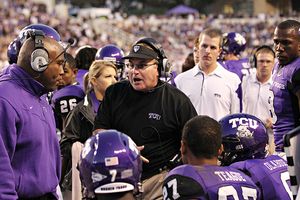 Like Kyle Whittingham of Utah and Chris Petersen of Boise State, Patterson has been one name who seems to be talked about during each and every college football off season. With every job opening, Patterson's name comes up and he becomes one of the hottest rumors on the internet.
But no sooner do these rumors come up, TCU and it's football coach are quick to make sure no one throws gas on the fire. They make it clear TCU is the place for him and it's where he is going to remain.
The question everyone seems to ask is, what keeps him with the Horned Frogs? Why stay at a school in the Mountain West Conference and not take a higher paying job in a big time BCS conference which would give him a chance at a national championship?
"There's been a lot of people in college football who left for where they think the grass is greener," TCU athletic director Chris Del Conte
told ESPN's Pat Forde
back in December of last year. "They're chasing ghosts. For every Urban Meyer, there's nine guys that caught the train on the way down and say, 'I should have never left.'
Patterson is someone who has become well known not only in the Fort Worth, Texas area but around every circle of college football. Del Conte even argues Patterson could very well become TCU's version of Penn State's Joe Paterno.
"He is that guy for us who can become a JoePa. Everyone knows him -- his strengths and his weaknesses, he told Forde. "Gary's strength is that he is true to himself -- honest, super intense, genuine. … It's him against the world to prove, 'Hey, I am a dang good coach.'"
Del Conte could not be more right. His reputation and coaching styles has led to the kind of recruits he has been able to bring in to the small school on the west side of the metroplex. Some would say TCU shouldn't be able to recruit against the likes of Texas, Texas A&M, Texas Tech and the like but it seems the Horned Frogs are doing just fine.
All of Patterson's efforts came together during the 2010 season. The leadership of quarterback, Andy Dalton, and their shutdown defense led to the program's first ever birth into the granddaddy of them all--The Rose Bowl.
While a victory over the Wisconsin Badgers was sweet, it was just another notch in the belt for TCU's head coach. It was certainly a victory which put Patterson and his program on the national map. So much so that it allowed the university to begin, and finish, negotiations with the Big East Conference to make them the newest member as well as becoming a BCS conference team.
All of his accomplishments as well as the accomplishments of the teams he is able to put together have made the name, Gary Patterson, an even bigger name around the college football landscape. He has proved year in and year out that he is more than happy being the head coach of Texas Christian University and has no plans of being anywhere else.
You have to respect a coach who isn't out for a bigger pay day and a bigger program. Patterson is not the kind of guy who wants to build up his name at one place just to move on.
They have been loyal to him and he has return that loyalty a few times over. He is beloved among the fans and the players who have played for him and those who continue to suit up in TCU colors.
While they may not be the biggest school in college football or one of the more respected, Gary Patterson will continue to bring in some of the best recruits in college football and will continue to make noise on the national stage from one year to the next.
There is no doubt Patterson will continue to get interest from every school that has a job opening, it will not take long for them to realize they will not have enough to be able to pry him away.
Now that TCU will become the newest BCS member after the 2011 football season, it will give Patterson the opportunity to recruit even better players and, for the first time, make a legitimate run at the BCS National Championship.
Follow Todd Kaufmann

on Twitter

or

become a fan

on Facebook