Congratulations TCU, you got exactly what you wanted.
According to
Brett McMurphy of AOL Fanhouse
, Texas Christian University has officially accepted an invitation to join the Big East Conference during the 2012-2013 seasons, not just in football but in all sports.
This has been speculated for some time that the Horned Frogs wanted to join an automatic qualifying conference since all the conference expansion began a few months ago. There had been rumors that the Big East was interested but there were also rumors that they were interested in Conference USA as well.
After Utah left the Mountain West Conference for the PAC-10 and BYU left for independence, they addition Boise State, Fresno State, Nevada, and possibly Hawaii, the rumors still never ceased that TCU wanted out. They still knew that even though the conference had added these three or possibly four teams, they were still not in the spotlight they wanted to be.
Even being in a different conference this season kept them in the shadow of one team that can't quite seem to get enough attention, Boise State.
Now, what used to be the top of the MWC with Utah, BYU, and TCU, will now look like the top of the Western Athletic Conference with Boise State, Nevada, and either Hawaii or Fresno State. Not exactly what the commissioner of the MWC was hoping for when he brought Boise State on board.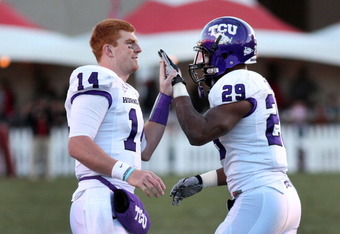 The Horned Frogs will now have a shot at an automatic BCS bid, something other small schools would kill for. Not only will this give the school a better shot at a bigger bowl game, but it will do wonders for their recruiting.
While Boise State does get a lot of the national attention now, they won't have that state alone for long. The Big East will have a new star in the making. If
Gary Patterson
remains and continues to bring the kind of product he has over the last few years, we could see more of TCU in the BCS picture for years to come.
What that means to the Mountain West is trying to find one more name to add to the top of their list, unless they sent the invitation to the University of Hawaii knowing full well that the Horned Frogs were on their way out.
If Hawaii isn't the name that is replacing TCU, the one name that could make the rounds in the expansion rumor mill is the University of Houston.
They've long been rumored as a team that the Mountain West could have interest in though there may be other names as well.
For now, Gary Patterson and Texas Christian University are well on their way to becoming one of the best small schools in the country. They've already made noise over the last few seasons, but now being in an automatic qualifying conference could not only bring success to their football program but it could also do wonders for their other sports as well.
The Mountain West took a huge hit today. They're going to need to regroup and come up with a way to save face.
If not, they'll look no better than Karl Benson and the WAC. That in itself, is reason enough to do something about it.