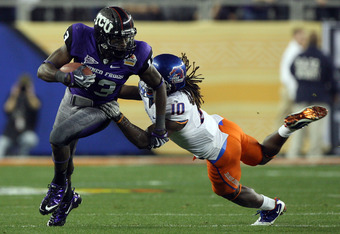 Jed Jacobsohn/Getty Images
For those of you who have ever played chess before, you'll know what I'm talking about as we move along.
For right now, those of you who don't, ask the person sitting next to you and I'm sure they'll be able to explain it to you.
In chess, when one person makes a move, most of us have already thought a few moves ahead. We know what move that person was going to make, and we move our pieces in accordance to what our opponent just did. But there are those times where the person we're playing against surprises us and makes a move we didn't see coming.
So, we sit back, we gather our thoughts, and we see the whole board. We look at what the opponent could possibly be after and why they would make that kind of move. Why would they go that way when we thought they would go this way.
In the same matter, Boise State and TCU were at the same chess board and the Broncos had the Horned Frogs pegged. They thought a few moves ahead and they made their move to go along with their thinking.
But, just when the Broncos thought they had it all worked out, just when they thought they had this game won, TCU did a 180 and went a completely different direction. It sent the Broncos into a panic, unable to think of what to do next.
Before Boise State knew it, TCU had them in a check-mate, leaving the Broncos absolutely stunned. It left them wondering if they shouldn't have sat back and saw the whole board before making their move. They had a fleeting thought in the back of their mind that something was amiss but didn't listen to that little thought.
Unfortunately, that fleeting thought came to reality on Monday morning as TCU jumped ship from the Mountain West Conference for an automatic qualifying bid into the BCS by joining the Big East Conference. But not just in football, but also in every other sport the school offered.
It was a move that a lot of us thought was coming but it seemed like a just a harmless flirtation. We had heard the Big East was interested in bringing TCU on board but there was also talk that Conference USA could also be interested in expansion.
The rumors died off, but not completely. They remained like standing water.
Then, a few months ago, the Mountain West announced that they had added Western Athletic Conference powerhouse Boise State, ripping the rug right out from under the feet of WAC commissioner Karl Benson.
Not long after that an invite was sent and accepted by both Fresno State and Nevada, taking three of the top teams in the WAC out of the conference and into what looked to be a strengthening Mountain West.
Though, most of us couldn't help but notice that it was beginning to look like the old WAC with schools like San Diego State, New Mexico, Colorado State, and now Fresno State and Nevada coming on board.
But just when it looked like the MWC was going to have the last laugh, TCU decided that they had had enough of the conference they were in and didn't want to be stuck in the shadow that had been cast by Boise State. They wanted out.
So, on a Monday morning in North Texas, TCU did just that. Signing an agreement with the Big East Conference that will add them to the conference rotation as of the 2012 season.
It has left Fresno State, Nevada, and most of all, Boise State shell shocked. They thought they had a solid top half of the conference with the Broncos, Wolfpack, and Bulldogs mixing with the Horned Frogs. It looked good, it looked strong. Then four became three.
The one school that just lost a huge boost in confidence i Boise State. They were making what looked to be a big jump into a stronger conference. They accepted the invitation to join the conference after the departure of Utah who headed to the PAC-10.
BYU and TCU were still there. Surely they couldn't have seen both schools leaving before the end of the 2010 football season? Surely they didn't see this coming? Could they really have signed the agreement knowing full well that both BYU and TCU would be on their way out? Had they known that, wouldn't they have held off on signing an agreement with anyone until they saw the whole picture?
It seems like insult has been added to injury. After a crushing loss to Nevada last Friday night, the Broncos are left holding the bag once more and believe me, college football fans couldn't be happier.
Boise State has been the big brother in the WAC. The team that the others schools looked up to, they wanted to be like them. Now, it's the Broncos who are begging TCU to stay like the little brother who doesn't want big brother to go off to college.
So why is everyone so thrilled about TCU leaving? Why are they thrilled about the Horned Frogs leaving for a conference that was called the "Big Least" most of this season?
There's a simple answer to that and it won't take a rocket scientist to explain this, though we could get one if you'd like to see him try and explain it? No? I didn't think so.
In the Mountain West, TCU would have had conference games against the likes of San Diego State, New Mexico, Colorado State, Boise State, Fresno State, among a few others.
Now, in the Big East, those conference games will come against UConn, Pitt, and West Virginia, just to name a few. To TCU, winning those games and going unbeaten in that conference gives them a better reputation and more national exposure than what they've been doing in the Mountain West.
I like what the Horned Frogs are doing to Boise. I like that they've left them in the dust. I like that when Boise is crying about not getting invited to a BCS bowl, TCU is sitting at the Orange Bowl in Florida, the Fiesta Bowl in Arizona, or the Rose Bowl in Pasadena, thumbing their nose at the teams left behind.
But in a moment of seriousness, TCU will look Boise State square in the eye and with a slight grin will say, "we didn't have to beg."
Boise, you talked the talk, but you didn't take care of business on the field. Say what you want about the Horned Frogs and their schedule, but they did what you couldn't.
I've defended you in the past, but you sat down for a game of chess with a team you continued to swear you could beat. But, when push came to shove, you couldn't beat a team that was lesser than.
So, lay down your queen, step away from the chess board, and walk away with your head hanging low.
You got beat.