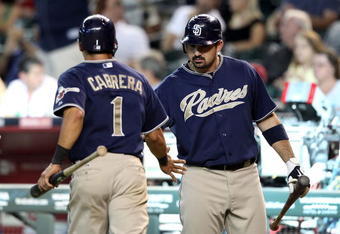 Christian Petersen/Getty Images
Adrian Gonzalez can now be called a "former San Diego Padre."
Late last night, rumors were on fire that the San Diego Padres and Boston Red Sox were close to a deal that would send Gonzalez to the northeast. I was wanting to see if this was more than talk seeing as we went through this same kind of thing this time last year.
As I awoke this morning, I found the rumors to not only be more than talk, but it turned into fact a few hours ago. The Padres had dealt their All-Star first baseman to the Boston Red Sox.
What was unclear, at least to me at the time, what players were going to be involved in the deal. For a guy like Gonzalez, I figured they would be getting some big time talent back in the deal, guys that would make an immediate impact on the team in 2011. Right?
To read the full article,
click here