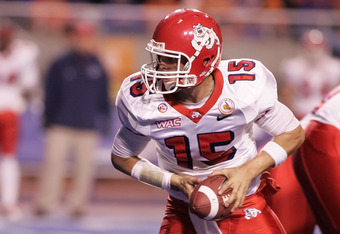 Otto Kitsinger III/Getty Images
Fresno State quarterback Ryan Colburn has just two games left in his career as a Bulldog before he either goes on to to the NFL or wherever his path takes him.
On Friday night, he'll play his final game in front of the home fans at Bulldog Stadium. The final time he'll get to see the Red Wave, and the last time he'll get to walk down the ramp into the stadium.
It's been an up and down career for Colburn since he became the quarterback at Fresno State. He's been beloved by some and questioned by others. He's had his great moments and he's had moments that make you shake your head and wonder what he's thinking.
To read the full article,
click here