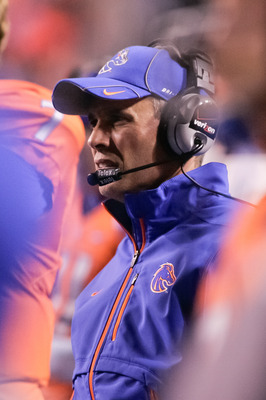 Otto Kitsinger III/Getty Images
There's no question that Boise State head coach Chris Petersen is a guy who's name will come up in just about every coaching vacancy in the country.
Florida is no exception.
When Urban Meyer resigned a few days ago, the rumor mill began to churn with just about every big name from TCU's Gary Patterson to South Carolina's Steve Spurrier taking over his old job. But what about Petersen?
This is a head coach who has done amazing things at Boise State and has carried their football team to BCS bowls and unbeaten, dominant seasons. He's done enough to make his team one of the most hated, or loved, football teams in the country.
Earlier this evening, I received a call from a source in Boise who told me Petersen had interviewed for the head coaching position with the Gators. Petersen is in Lake Buena Vista, Florida about 40 minutes outside Orlando, for the
Home Depot College Football Awards
dinner with his quarterback Kellen Moore.
I haven't been able to confirm anything but I did come across a podcast on
KIDO 630 AM
in Boise. Radio host Terry Ford did an
interview
with
David Lamm of 1010XL
in Jacksonville, FL earlier today. Before Ford could say anything about Petersen or the open job at Florida Lamm said, "Mike Bianchi, who's a columnist for the Orlando Sentinel, comes up to me and says did you hear that the Gators are interviewing Chris Petersen today in Orlando?"
I know the leading name that a lot of people have talked about is Dan Mullen from Mississippi State and there's even an
article on Bleacher Report
talking about a rumor that Mullen has accepted the job at Florida. But, as the article makes very clear, it's nothing but a rumor.
While we all have our opinions on Mullen and every other candidate that is going to be named to this gig, let's focus on Petersen and see if we can connect the dots.
The source I talked to a few hours ago had attempted to contact the Boise State Sports Information Director earlier this afternoon for a comment but had yet to get a response. Normally, if a school wants to deny a report and do so emphatically, like Nebraska athletic director Tom Osbourne did when rumors surfaced Miami was looking at Bo Pelini, they would do so quickly.
That denial hasn't come.
There's also a little trick that sports writers have used in the past to track the whereabouts of a certain school's athletic director or athletic department.
If you've neve visited a site called
FlightAware.com
, you can put in a tail number of an aircraft and track where it's been and where it's scheduled to go next.
As for the University of Florida has three different aircrafts, two of the flight aware's are turned off and the third shows no status after 12/3/2010.
While that might not mean much to the normal every day reader, it's fishy to the writers who have been doing this for a long time. It was actually a tip given to me by a nationally known writer when I spoke to them earlier tonight.
I know there are a lot of college football fans, especially in the south, who question Petersen's ability to coach in the Southeastern Conference. But let's not forget, that same thing was said about Urban Meyer when he was hired by Florida from the University of Utah after just two seasons with the Utes.
While I'm in no way saying Petersen is Florida's lead guy, I think it's the right time and the absolute right job for him to take if he were in any way interested.
This story will play out over the coming days but I wonder just how long Florida is going to wait before they announce their next head coach.
Will it be Dan Mullen from Mississippi State or will it be Chris Petersen from Boise State?
Let the speculation begin.