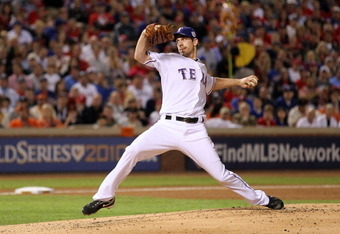 Ronald Martinez/Getty Images
For most of the last four days, Texas Ranger fans have been hanging on every word spoke on local radio and every tweet coming from just about every national writer there is.
They want Cliff Lee back though there are some fans who don't want to overpay to get that done.
As of this morning, the New York Yankees had upped their offer from six to seven years, something the team said they weren't going to do. But, after free agent outfielder Carl Crawford signed with the Boston Red Sox early this morning, the Yankees became desperate to land at least one big time free agent, so they did what we all knew they were going to do.
Now, it's in the hands of Rangers' team president Nolan Ryan to see if Lee is really serious about coming back to Texas or if he's only in this for the money.
Everyone believes the Yankees are the front-runner and for good reason. Their seven-year, $160 million offer is a good one and one that will make the Rangers shake in their boots.
But, there are those of us around the Dallas/Ft Worth area that believe the Rangers need to move on and let Lee either sign the contract offered him by the Rangers or go where the money is and head to the Bronx. The Rangers can't afford to give him seven years and it would be a horrible decision for the team to give him just that.
Newy Scruggs from
105.3 FM The Fan
in Dallas talked about that exact thing this morning on his radio show. He also believes the Rangers should move on to other players and try to land Kansas City Royals' pitcher, Zack Greinke. He also had Jamey Newberg of the
Newberg Report
on the air this morning who talked about what Greinke brings to the table. From what I heard, I agree with both of them.
Though we can talk about Cliff Lee for the next few days until he makes a decision, there is one other big name that's floating around the area is third baseman and longtime Ranger, Michael Young.
Rumors surfaced a few days ago that the Rangers were talking to the Colorado Rockies about dealing him but what was coming back wasn't immediately known. Bryan Dolgin, who covers the Rangers,
quoted Nolan Ryan
as saying the team was not going to trade Michael Young but Ryan added that they would listen on any player.
On the flip side of Dolgin's report, Ken Rosenthal of
Fox Sports
tweeted yesterday
that the Rangers were gauging interest in Young and were even offering to pay some of his remaining salary to get a deal done.
The feeling around the media here in the Dallas area is the Rangers will not trade the face of their franchise until they know what will happen with Cliff Lee. Until they receive an answer from the free agent left-hander, there won't be a deal in place with any team.
From everything that's been said, it seems to me the only reason the Rangers would move Young is to clear needed salary to sign Lee if an agreement can be made.
As of right now, the Rangers met with Lee and his agent in Arkansas earlier today but there's been no indication that an offer has been made to him.
Because of the hold up and because the team hasn't gotten an answer from him, they've already lost out on Carl Crawford and they risk losing out on Greinke if they continue the pursuit of Lee.
They need to move on and they need to start making moves to better their team. They can not get into a bidding war with a team that is really acting on nothing more than desperation. Seven years is too much to give a player that is already north of thirty years of age.
They can still get into talks with the Royals for Greinke, they can still either re-sign Vladimir Guerrero who's looking for a two-year deal or you can look at another free agent in former Minnesota Twin, Jim Thome who I believe could be a tremendous person to have behind guys like Young and Josh Hamilton in the lineup.
It's expected that Lee will give the Yankees and Rangers an answer before the end of the weekend. However, if I'm Nolan Ryan and general manager Jon Daniels, it's time to tell the free agent pitcher that they are done with the chase and are ready to move on to other players.
Sure "it's time" but that slogan means the end of a chase they shouldn't even be in at this point.