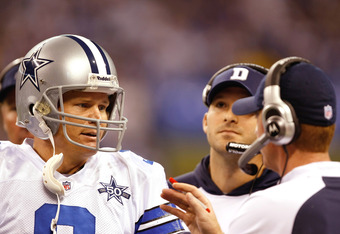 Scott Boehm/Getty Images
The Dallas Cowboys tried to give the game away to the Washington Redskins. It seemed, for awhile at least, that's exactly what was going to happen.
However, Rex Grossman got the start for the Washington Redskins so you knew there was a chance he was going to make a few mistakes in the course of the game that were going to make the difference. Low and behold, we were right.
Grossman, for the most part, had a solid game. He threw for 322 yards and four touchdowns but was picked twice including one that ended the game as well as one fumble.
Each time Grossman was intercepted it was on a very poorly thrown ball.
Cowboys ended up taking the game, 33-30.
Now for my observations since I did attend this game at Cowboys Stadium. First, it was the first ever NFL game for both my wife (who's a diehard Cowboy fan) and myself. Her team won, she had a great time, that's all that matters to me.
Now on to the fun stuff.
To the lady sitting directly behind me, yes you with the Steelers jersey on and rooting for the Redskins, I'd like to thank you for the ringing that still in my ears. The octave of her voice was far higher than my ears were prepared for.
By the way, I'm not a big fan of Cowboys' kicker
David Buehler who, when asked why he missed his 35-yard field goal said, "I was too horny." Nothing like someone being real. I don't care how many field goals you miss, Dave, you have a new fan right here.
Dallas' secondary sucks. Though I'm sure that's nothing new to those that have watched this team all year long.
Speaking of sucking, the first red zone appearance for the Dallas Cowboys today was probably the worst sequence of plays I've seen in awhile.
I don't know what the situation is between Redskins' quarterback Donovan McNabb and head coach Mike Shanahan, but how do you bench a guy a few weeks after he's signed to a contract extension worth upwards of $80 million? Has he really done something so horrible that you believe Grossman is better than McNabb?
Speaking of Grossman, he was sacked five times by a Cowboys' defensive line that looked better than they have in previous weeks. Two of which came at big moments of the game, so give them credit for playing well today.
Officials had somewhat of an off day today as well. They missed a blatant tripping call early on in the game and then a roughing the passer penalty that looked more like the "Tom Brady rule." I didn't know Grossman had Brady's pretty face.
Jon Kitna played pretty well today. He looked poised under center, made quite a few solid throws and big plays when he needed to.
All-in-all, it was a good win for the Cowboys and one their fans needed to see. Seeing as they had only won one other game at home all year.
Since there will be no playoffs for this team this season, the talk about "what's next" will almost certainly begin here in Dallas.