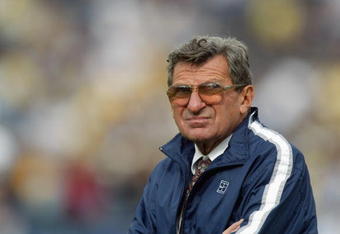 Danny Moloshok/Getty Images
Update: 12/24/2010 12:22pm CST -
Merry Christmas Even to all my readers!
Just when you thought these Joe Paterno retirement rumors were going to die off they've reared their head nice and strong this morning. According to
Mark Hasty at AOL Fanhouse
, it seems there are significant health concerns that may force Paterno to retire after their bowl game.
But let's not get this twisted, though Hasty has an article up he gives credit where it's due on this story.
Matt Baxendell
of 790 The Zone in Atlanta has been on this story from the moment the news started to trickle out. He talked about Paterno's possible retirement and the fact that there might be a power play in effect to try and convince the long time Penn State head coach to step away.
Update: 12/23/2010 7:25am CST -
According to
PennLive.com
, there has apparently been an email rumor about the health of Penn State head coach Joe Paterno and that it's gotten to the point where he will retire at the end of this season. There's nothing official so until it comes from Penn State itself, this is just another rumor.
Update: 2:45pm CST -
Just talked to a source who told me Penn State is looking at one current college football coach and a "former NFL coach" who they hold in high regards. The only thing I can assume from that phrase is either Jon Gruden or Tony Dungy since those are the two names that continue to come up around the NFL.
If it's me, holding a former NFL coach in high regards could only be Tony Dungy but I can't imagine that he would come out of retirement to coach in college. I just don't see that at all.
There's news slowly starting to leak out that Penn State could be trying to push out long time head coach Joe Paterno.
Matt Baxendell of 790 The Zone
in Atlanta said, via Twitter, "
I have heard from a very good source that Joe Paterno's final game at Penn State will be this year's Outback Bowl. More to come soon." He would go on to say, "I caution that Paterno's retirement is not set in stone yet but there's a concerted effort from the admin & former players to get it done.

As for replacements, the Penn State brass apparently wants new blood to shake the program up, so don't expect any assistants to get the job.
As for why this hasn't been public news (until now), Penn State is trying to avoid a Bobby Bowden-like PR disaster and wants to convince JoePa that his health simply doesn't allow him to function as coach any more. Hence all the former players involved."
Baxendell isn't the only one to hear this news, he also made mention of Nick Horvath of ESPN 1400 AM in Harrisburg, PA apparently brought this up on his show last night.
We don't know just how far this goes or even if this will become reality. I think a lot of us, who have followed Penn State over the years, saw this kind of thing coming and knew that it should be time for Paterno to step away.
If a change is made, it will be the shot in the arm the university needs to get back on top of the national scene in college football. There's no indication as to what names will be thrown out there to replace the Nittany Lion legend, but you can just about guarantee you'll hear names like Jon Gruden, Bill Cowher, and a few others.
What's your take on this? Should Penn State force out Paterno if they believe it's the best for the program or should they allow him to leave on his terms?