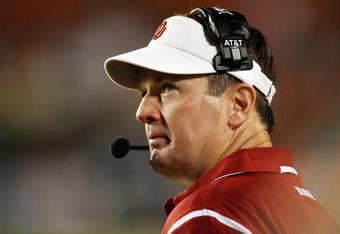 Doug Benc/Getty Images
Update: 1:14pm CST -
A source out of Boise told me that he'd be shocked to see Stoops take the Florida job and still believes Petersen to be the number one guy for the job.
Update: 12:25pm CST -
I talked to
Lisa Horne of Fox Sports
on this news and she told me, "
Stoops is always mentioned in any high-powered coaching job (ie, Notre Dame) and it never pans out. I also think Florida goes after

a coach who has a winning record in bowls but isn't necessarily in a BCS conference. Like a Patterson, Petersen, Calhoun or Niumatalolo."
Update: 12:00pm CST -
Talked to another source out of Houston that tells me it's Stoops' job if he wants it. But if not, Kevin Sumlin from Houston could become a factor.
Update: 11:57am CST -
The source that has been on this story since Thursday night is not sold on the report from ESPN Insider and doesn't believe that Stoops would accept the job. He did admit that they could be wrong and stranger thing have happened, but they're not ready to accept that Stoops is the man.
Update: 11:50am CST -
With Stoops coming in as the Florida head coach, it looks like Jacksonville University head coach Kerwin Bell will come in as the offensive coordinator.
Update: 11:46am CST -
I talked to a source this morning who tole me "it will be Stoops." The terms of the deal aren't yet available but I'm told that Stoops should be the next head coach at the University of Florida.
So Boise State fans can breathe easy. For now.
According to rumors that have surfaced this morning, something I didn't expect to happen apparently could very well be happening.
The Florida Gators apparently
are in talks
with Oklahoma head coach Bob Stoops to become their next head coach.
There's nothing official behind this yet and I'm still trying to find out from sources if they can confirm this, but it's already hit the rumor sheets that the two sides are in negotiations.
As of last night, a lot of people expected the Gators to name Boise State head coach Chris Petersen as their man by sometime next week but that was assuming Stoops turned the job down. Apparently, it seems that's not going to happen.
When it's confirmed, we'll break it down and I'll give my take on the hire.