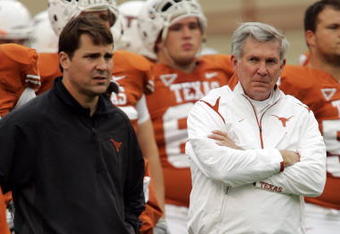 Brian Bahr/Getty Images
I know that I've been saying Boise State's Chris Petersen would be the next head coach at Florida, or at least that he was the guy that Florida wanted.
As much as a part of me wanted this story to really come true, as a Fresno State fan and as a fan of Petersen himself, I truly wanted loyalty to win the day and it looks like that has come to pass.
Will Muschamp, the offensive coordinator at Texas that was said to be the next in line to take over the Longhorns, is the guy that the Florida Gators have gone with which in a lot of ways is surprising. He's not a name that any of us saw coming and a name that was never reported in Florida's search.
I'm going to say good for Will because he's a guy that definitely deserves a shot to have his own team to prove that he's ready for the challenge.
I'll have a full article up shortly for my opinion as well as the other coaching jobs that are currently open.