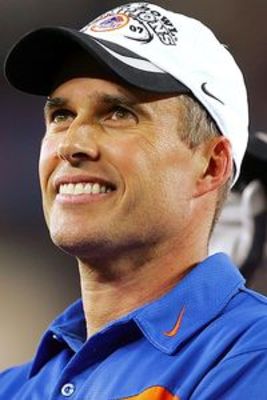 Ok Boise State fans, I know you want to hear it so here you go. I'm sorry. The sources I had never saw this coming and neither did anyone else. I'm not making excuses, I was wrong and that's the end of it. It happens in this business unfortunately, it comes with the territory.
That being said, a big congratulations goes out to now former Texas Longhorns' offensive coordinator, Will Muschamp who officially was named the new head coach at the University of Florida.
It is a great hire for the Gators and a guy that finally deserves his own shot. We all thought he was the heir apparent to the Texas program but it seems Muschamp was growing tired of waiting and this was the perfect opportunity for him to spread his wings and take this once in a lifetime opportunity.
As for Boise State, they are breathing easier tonight as their head coach Chris Petersen will remain in Boise as their head coach.
I know this is going to sound like a "he's backtracking" but I said this to several people earlier today.
Growing up in Fresno and watching the Fresno State and Boise State rivalry, I have a tremendous amount of respect for Chris Petersen and the job he's done at Boise State. My Bulldogs, and head coach Pat Hill, could only dream of the things he's been able to accomplish there.
A part of me was hoping that loyalty won the day and that he would remain with the Broncos. It seems that has come true.
Petersen's name will come up again and it might surface with the University of Miami. There's been at least a few tweets suggesting that the Hurricanes might be going hard after him. I'm not going to say a word about that either way because I don't know a thing about that job opening. I will give my opinion and say I hope he doesn't end up there.
Florida is one thing, Miami is quite another.
Lastly, Bob Stoops was never the guy that Florida was going to land. I believed that even though there were rumors that the Gators were in negotiations with him earlier today.
He has a cush job at the University of Oklahoma and taking the gig at Florida was nothing more than a lateral move for him. I couldn't see him leaving Oklahoma and it turns out he isn't.
All in all, it's been a weird few days but when the dust settled the right guy was hired at Florida and I wish him nothing but the best. I really do hope he succeeds there because I know how much the Texas fans loved him and wished he were the guy to take over.
Again, to the Boise State fans, I was wrong and I'm happy to admit that. I know you want to call my credibility into question and that's fine. It's understandable coming from a fan base that doesn't want to lose their coach.
I hope that you can still talk sports with me and give me your opinion. I don't mind a good ole fashion debate from time to time.