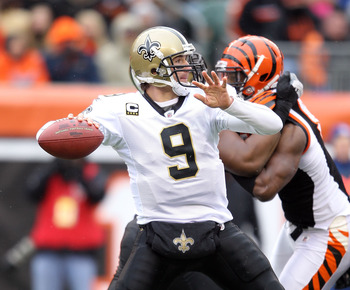 Andy Lyons/Getty Images
I know there are those of you who were waiting on the edge of your seats to see my NFL picks, right? No? Dang, tough crowd.
Anyway, here they are just in case you're interested. Trust me, I'm no genius but I like to have fun with it just to see how well I do.
Tampa Bay (7-5) at Washington (5-7) -
The Redskins finally benched Albert Haynesworth. It's about time. They should be feeling a little better about themselves. I'll take the 'Skins at home.
Cleveland (5-7) at Buffalo (2-10) -
I don't care that Buffalo is at home, they're 2-10. No chance I'm taking them to win.
Green Bay (8-4) at Detroit (2-10) -
Another 2-10 team playing at home although this time it's the inept Lions against the Aaron Rodgers led Packers. Yeah I'll take the Pack in this one.
Oakland (6-6) at Jacksonville (7-5) -
This is a harder pick but because I'm not a big Raiders fan, no offense intended to my Oakland readers, I'll take the Jags in a close one.
Cincinnati (2-10) at Pittsburgh (9-3)
- Anyone see a 2-10 year coming from the Bengals with guys like Carson Palmer, Terrell Owens, and Chad Ocho Cinco on the same team? Yeah, neither did I. Steelers roll.
Atlanta (10-2) at Carolina (1-11)
- Wow, there are some lopsided matchups going on this week. Matt Ryan...do your think kid. Falcons go big.
Seattle (6-6) at San Francisco (4-8) -
Isn't this the same as a battle between bad and worse? Since I have to pick one, I'll hope for a Seahawks win. Sorry...that's about as good as you'll get from me on this one.
St. Louis (6-6) at New Orleans (9-3) -
Now this is a matchup that might intrigue me a little. The rookie (Sam Bradford) against the veteran (Drew Brees). Yeah this might be a good one but the Saints should get this one at home.
New England (10-2) at Chicago (9-3) -
Tom "Pretty Boy" Brady against the Chicago Bears. If the officials don't use the "Don't Touch Tom" rule most of the day tomorrow, the Bears might have a chance. Nah, Patriots still win.
Denver (3-9) at Arizona (3-9) -
Ugh. Someone wake me when this one is over. The only way I'd pick Denver to win is if they start Tim Tebow. Since that's not happening, I'll take Arizona.
Miami (6-6) at NY Jets (9-3) -
I really don't want to take the Jets. I can't tell you how much I don't want to pick the Jets. Fine...Jets win.
Kansas City (8-4) at San Diego (6-6) -
The overachievers against the underachievers. The Chargers can't possibly get swept by the Chiefs...can they? I didn't think they'd get swept by the Raiders...they did. I'm counting on San Diego to find a way, any way, to win.
Philadelphia (8-4) at Dallas (4-8) -
The Eagles have payback on their minds from last year. This is going to get ugly...quick. Vick is going to make the Cowboy defense look absolutely foolish.
**MONDAY NIGHT DOUBLE HEADER**
NY Giants (8-4) at Minnesota (5-7) -
This game was postponed from Sunday to Monday, but I still don't know who to take. I don't like Eli Manning but I dislike Brett Favre even more. Who's the lesser of two evils? Giants win.
Baltimore (8-4) at Houston (5-7) -
I know Houston is better than their 5-7 record, I just know they are. At least they have a good running back (Arian Foster). That, unfortunately, isn't good enough for me to pick them. Ravens win.