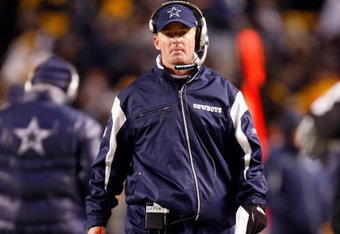 Gregory Shamus/Getty Images
Good morning sports fans, today is December 16th, 2010. If you're interested in what happened on this day in history, about the Boston Tea Party on December 16th, 1773.
There's your little nugget of knowledge dropped on you this morning. Now that that's out of the way, what say we get to sports?
Miami Heat: Streak Now at 10
As much as I don't want to give them a lick of credit, it's hard not to when a team has ran off 10 straights wins as the Miami Heat have. I find it a tad ironic that the 10th straight win came last night against LeBron James' former team, Cleveland Cavaliers.
Being unbeaten against them has to feel pretty good to ole King James. Not sure why we're still calling him that but apparently he thinks it's fitting. Even without a championship ring.
Dallas Cowboys: Is Jason Garrett a Shoe-In as the Next Head Coach?
When Wade Phillips was fired by the Dallas Cowboys, though really he fired by Jerry Jones, offensive coordinator Jason Garrett took over the team and has won three of the five games since he took over. There's sentiments among Dallas media that Garrett is a shoe-in to be the next head coach of the team.
When he first took over, most people thought he was just a temporary fix until Jones could go after a guy like Jon Gruden or Bill Cowher. However, that sentiment has changed and mostly due to the fact that Jerry wants a "yes man" and not a coach that wants full control.
If the media is right and Garrett takes over, you can chalk it up as the worst decision Jerry has made since hiring Phillips.
New York Jets: They're All Laughing at You
Congratulations to the New York Jets for becoming the joke of the NFL and not because of their play on the field. After the tripping incident over the weekend, it was found out later that this same coach wanted players to make a virtual wall just in case they were to have a run in with an opposing player.
Before, everyone was praising the Jets for their performance on the HBO show "Hard Knocks." Now the only knocking going on is the shots the media has been taking at the team since the game on Sunday.
J-E-T-S now stands for Just Entertaining To Some
In closing...
Oregon over Auburn in the national championship game. Cam Newton is good, but Oregon will have something to prove.
Still don't like LeBron James. Not that it's all that surprising.
My bowl picks will be up tomorrow for the games going on this weekend, so stay tuned for that.
I'm still a proud hometown kid from Fresno. For that reason, I still read and give a ton of credit to guys like Daniel Lyght, Mike Oz, and Bryant-Jon Anteola from the Fresno Bee. Still love my hometown paper.
I get the absolute honor of sitting down with one of my all time favorite speakers this afternoon. If you don't know Tim Ross, here's a reason why you should.
People here in Dallas are excited about the way the Dallas Mavericks are playing. But the regular season has never been the problem, it's always been the playoffs were things go wrong.
When was the last time San Diego State (football and basketball) got more run in the local media than the San Diego Padres and San Diego Chargers combined?
When football season is over, how are you sports fans going to fill up your weekend with nothing to watch on tv?
Two months from today, pitchers and catchers report to their respective spring training homes.