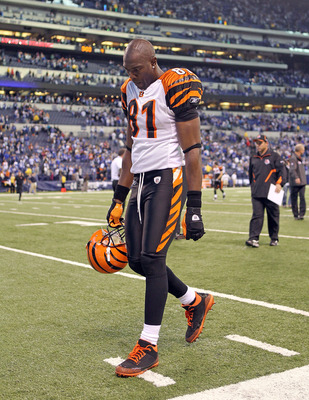 Andy Lyons/Getty Images
I was impressed at least for awhile. Terrell Owens hadn't said much during his first season with the Cincinnati Bengals alongside teammate Chad Ocho Cinco.
That
came to an end
on Tuesday night and it ended in true T.O. style.
During his cable network show "The T.Ocho Show" alongside Ocho Cinco, Owens was asked by his teammate why the Bengals were struggling as badly as they are. Did he blame themselves, the players, and their play on the field or did he blame someone else?
Like that's really a question I need to ask.
"I think there's underachieving from the top down. You start with the owner, you start with the coaches. And obviously we as players, we are a product of what the coaches are coaching us throughout the course of the week."
Really T.O.? Your team has won two games and instead of admitting that you're not playing very well, you throw someone else under the bus. Far be it for you to point that finger where it should be pointed.
It was just a matter of time before Owens went this direction. I'm surprised it took him this long to get there. He's done it at every stop during his professional career and has been run out of town for it. He can talk about "being real" but that requires blaming himself for dropping everything in sight during his last season in Dallas. Yet, he blamed Romo for bad passes and for throwing more passes to tight end Jason Witten. Though, can you really blame him for throwing to someone who can actually catch?
Owens wasn't done taking his shots at the Bengals coaching staff. "Of course, we have to go out there and play the game. But in order for us to do what we're allowed to do at the best of our abilities, the coaches have to put the players in the best position."
T.O. has had a solid season I won't disagree with anyone who says that. But to throw the coaching staff under the bus for what the players aren't doing just makes me shake my head.
If he's not careful, he's going to talk his way right out of Cincinnati like he has with every other team he's played for.
His problems with San Francisco 49ers' quarterback Jeff Garcia and calling him a few choice names got him tossed from the Bay Area. His problems with Donovan McNabb and accusing the Eagles' quarterback of "quitting" during the Super Bowl got him tossed from Philadelphia. Finally, his mouth got him kicked from the Dallas Cowboys when he complained about not getting the ball thrown to him no matter how many times he dropped the passes he did get.
This is an extremely talented receiver with a mouth that doesn't know when to stop talking. I don't know if he doesn't have a sensor or if he just doesn't care what people think of his opinions. One thing is very clear, Owens lives by his own motto and his own rules. No matter how he plays, it's never his fault for things that don't go right.
While he doesn't deserve any blame for what's going on in Cincinnati, it's also not for him to throw people under the bus for having as many wins as the Carolina Panthers.
It's only a matter of time before his mouth gets him a one-way ticket out of Cincinnati. If that does happen, there won't be many teams left that are willing to deal with him.