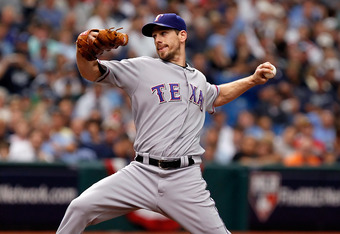 J. Meric/Getty Images
Good Wednesday morning to all the sports fans out there.
This is something that I've wanted to do for awhile but since there were so many people worried more about reads than content, I wasn't really able to put this kind of thing together. But, now that I'm kind of doing my own thing, we're going to have some fun with it.
Every morning, I'll be doing a small sports report and give random thoughts on some of the things going on around the world of sports. We'll talk about just about every sport you can imagine except for the ones that I could care less about.
That being said, are you ready? Good...let's get it.
Cliff Lee: There's more to his move than meets the eye
Everyone wanted to hate on Cliff Lee for the decision he made on Monday night by signing with the Philadelphia Phillies. They wanted to say that he stuck a knife in their back and even more wanted to compare him to LeBron James.
Well, now that it's begun to leak that Lee wanted to be close to a doctor, and a hospital, that specializes in leukemia treatment because of the fact that his son battled the disease at one time, the move seems to be more about being a father than being a professional athlete. Would you like to hate on him now?
I was watching the news last night and the Dallas media, and fans, seem to be still devastated about this move. They don't want to let go of the fact that Lee is gone and it's time to move on. One of those media people, Richie Whitt of 105.3 FM in Dallas and a writer for the Dallas Observer, seemed to be taking things to the extreme.
I can understand wanting the guy back, but to go to the lengths of blaming the Rangers for not giving Lee the seven or eight years he required I think is going a bit far. The Rangers are not going to give anyone that kind of a contract and I don't blame them one bit.
Now, it's time for the Rangers to go after Kansas City's Zack Greinke or Tampa Bay's Matt Garza. Yes Richie, I know they don't excite you but we'll all have to deal with your disappointment.
Fresno State: Suspending three players prior to the Humanitarian Bowl
For those of you who don't know I grew up in Fresno, CA and I remain a die hard Fresno State fan. I know I should try to stay unbiased but that's like asking me to go to a steakhouse and ordering a salad. As the great comedian
John Pinette would say
(5:30 mark in this video), "salad's not food, salad comes with the food. Salad is a promissory note that food will soon arrive."
The Bulldogs are in yet another bowl game called the Humanitarian Bowl. They were in this position last year before losing to a mediocre Wyoming team. This year their opponent is Northern Illinois. At first glance you'd think this should be an easy win for Fresno State.
Yeah not so much.
With Fresno State nothing is easy or routine. Add to fact that head coach Pat Hill suspended three players who didn't make the trip to Boise with the rest of the team and will not be playing in the game on Saturday. Though Hill won't say what any of these three players did, they aren't bench warming players. One of which is Kyle Knox who's second in tackles. Exactly what their defense needs, a missing piece to an already lackluster squad.
If the offense didn't already have a lot of pressure on them, add this to the list.
Cam Newton: Is he a legit NFL prospect?
I'm not going to hate on Cam Newton because there's no question in my mind that he's the best player in college football. Apparently everyone else agreed because Newton was the one hoisting the Heisman Trophy this past Saturday night.
The question I do have is, no matter how much talent this young man had in college, will it carry over to the NFL? There have only been a few quarterbacks in the NFL that have made the "scrambling QB" work one of which is Michael Vick.
However, I don't know that Newton has that kind of talent to be able to put both his arm and his legs together to make one solid and talented quarterback in the next step in his football career.
What do you fans think? Does Newton have the ability to be a good quarterback in the NFL or will an NFL team try to convert him to a tight end or wide receiver? Neither of those options would shock me in the least.
As of right now, Stanford's Andrew Luck is the top pick in the 2011 draft and there are other players behind him that will be picked up before Newton. So, the question to you fans is, where should Newton go and is he even a first round pick at all?
In closing...
Brett Favre's consecutive games streak came to an end and not many people cared, myself included.
Speaking of Brett Favre, are the Minnesota Vikings headed to Los Angeles as the new NFL franchise?
Roy Halladay, Roy Oswalt, and Cliff Lee OH MY!
I'm still waiting for former Fresno State running back Ryan Mathews to have that breakout game I've been predicting for some time.
Speaking of Fresno State, fans are excited about Derek Carr being their quarterback next year. Even his brother, current NFL quarterback David Carr, thinks he'll have a lot of success. Fans are hoping you're right, David.
How are you America's Team if you only have one playoff win in 15 years? Yes I'm talking to you Dallas Cowboys.
Call me biased, but I'm hoping the Rangers go get Matt Garza for no other reason than he's a former Fresno State pitcher.
It's hard being a San Diego Padres' fan. It just is.
Is anyone as shocked as I am that the Cincinnati Bengals are as bad as they are this season?
Why is no one talking about Jim Thome right now? He has a big year in Minnesota and I don't see his name anywhere.
Who gets Zack Greinke and who gets Matt Garza? Any predictions?