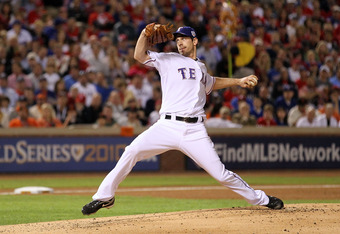 Ronald Martinez/Getty Images
All baseball fans wanted to talk about from the moment the off season started was "where will Cliff Lee sign." That was the topic of conversation around just about every water cooler, television station, and radio microphone in the Dallas/Ft Worth metroplex.
They were almost certain they were going to bring the left-hander back and they were sure he was going to be wearing a Texas jersey for at least the next six to seven years of his career.
They were wrong.
Last night, news broke that Lee had not only scored the Rangers, but he also passed on the New York Yankees to sign with the team he played for in 2009, the Philadelphia Phillies. He did so and took less money in the process.
As I woke up this morning and checked Twitter, I was surprised at what I saw. Ranger fans were acting like they had been stabbed in the back and comparisons to LeBron James were being made. That's when I shook my head and wondered how things could get this bad?
The only comparison that can be made is going to a team that's already stacked with talent. After that, the comparisons stop.
Why are you fans so up in arms anyway? Did Lee tell the Rangers he was going to re-sign with them? Not from what I've heard. Not only that, but Lee called Rangers' general manager Jon Daniels personally to let him know of his decision. He didn't go to that extent for the Yankees.
So why are you upset again?
Lee got you past the Rays and Yankees to get to the World Series. He did what you brought him in to do and, above all that, you really didn't give away much to get him. If anything, you got him for a much cheaper price than the going rate.
The Texas Rangers wanted him, badly. They were hoping they could bring him back to be their ace and the leader of their clubhouse. It's not a team that can't contend in the AL West especially since the Angels, A's, and Mariners really haven't done anything to improve themselves from last season.
Major League Baseball's off season isn't done and pitchers and catchers don't report for another two months so there are some changes still to be made. But, as of this moment, the Rangers are still the team to beat.
From here, the Rangers will look in to acquiring Kansas City's Zack Greinke or Tampa Bay's Matt Garza, however, they can't just throw caution to the wind and do whatever it takes to acquire either player. The team still needs to be smart because they are still building to win not only in 2011 but far beyond that.
Cliff Lee isn't coming back to Texas and no amount of crying and whining about it is going to change anything. It's best to get over it and move on because there are still moves to be made and players to acquire.
This Rangers' ball club is not done by a longshot. Don't jump off the bandwagon just yet.