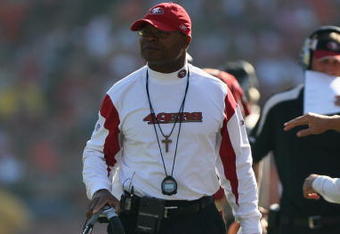 Jed Jacobsohn/Getty Images
The writing was on the wall and not just through this season. That writing had started some time ago.
Finally the written word became spoken as the San Francisco 49ers fired head coach Mike Singletary after their loss to the St. Louis Rams on Sunday. It was the best decision for the team going forward and it will probably end up being the right decision for Singletary as well.
He didn't exactly make himself look like the most respectable man on or off the sidelines. We saw spats with players and we even saw an embarrassing interview that got the man asking the questions, right or wrong, fired from his job.
Finally, the 49ers had had enough though I'm not sure why it took them so long to do something they should have done before this point in the season. Maybe things would have turned around had they made this move several weeks ago.
Well, then again maybe not.
So what's next for the now former NFL head coach? Where will Mike Singletary end up next? How about a college football coaching gig? Yes, I said "college football." That's where Singletary needs to go next, that's where he would have the most success.
A guy like him would do best to teach young players the game, not try to coach players who are only wanting their paycheck at the end of the day.
How would Singletary look as the head coach at Colorado, Minnesota, or any other college football head coaching vacancy that could come open when the football season comes to a close?
I think it's the best for him and I'll give you 10 reasons why.
1) Young players are more apt to listen to an NFL legend
2) He can build these college players to be successful at the next level
3) Demands perfection and discipline
4) Less drama in college football, sort of
5) Would perk the ears up of any athletic director if he was interested in their school's opening
6) Could be the guy to rebuild a program that's desperate for it
7) Could be a top notch recruiter
8) Ticket sales would increase just by the mention of his name
9) Would be a great fit for a mid-major program
10) Would be able to rebuild his name as a coach upon tremendous success at the college ranks
If you disagree with any of these 10 reasons, don't be afraid to tell me which one you disagree with and why.
I know there are some of you who are asking why I said "mid-major" and not big time programs like the SEC, Big 12 or Big 10. The answer to that is simple. The big time conferences aren't really going to be enamoured with a guy like Singletary. They want a guy with a proven track record and a guy they know can win right away.
A mid-major program has few expectations of their coaches save for a few of them. They don't expect that you're going to go unbeaten year in and year out. As long as you bring them bowl appearances and wins as well as winning seasons they seem to be quite happy.
Just ask Fresno State. Their head coach, Pat Hill, is 4-7 in 11 bowl appearances and received a contract extension in December of 2009. It's amazing to reward a coach for mediocrity but, like I said, no real pressure to bring home any championships.
Say what you want about the job he did in San Francisco or the problems he had with his players, but the NFL is a different entity altogether for a head coach. It comes with its own problems and its own scrutiny. There are some coaches who can handle it and handle it well and there are others who can't handle the pressure that comes with the job as well as dealing with the media on an every day basis.
It's time for a guy like Singletary to look for a job that won't come with quite the amount of pressure he had in the bay area. He needs to find a spot that will be able to show his strengths as a head coach.
College football would definitely welcome a guy like him with open arms and would be excited about the possibilities he brings to wherever he ends up.
If I'm a mid-major in the midst of a possible coaching change, there's no question in my mind I reach out to Mike Singletary and gauge his interest in a college job. He may want some time away from football but at least you'll know where he stands.
If he wants to succeed and be able to show what kind of coach he can be, the NFL is not where he needs to be. The college game would suit his abilities and show what he's capable of.
So Mike, if you really think the 49ers did you wrong there's only one way to prove it. Take a college football head coaching gig somewhere that has a name that most people would recognize and build that program into a contender year in and year out.
I have no doubt that you can do just that because who wouldn't want to play for an NFL legend and learn from a guy who's been there? What parents wouldn't listen to a guy like you if you were to come for a recruiting visit?
You belong with a university that can allow you to spread your wings and show what a capable coach can do. There are schools who would love to give you a chance.
The only question is, will you listen?