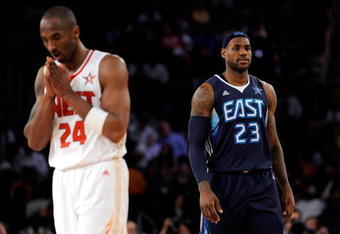 Kevork Djansezian/Getty Images
The Los Angeles Lakers and Miami Heat will meet on Christmas Day at the Staples Center in Los Angeles.
Not only will this be a battle between two of the best teams in the NBA but it will also be a battle between two of the best players in the league.
Kobe Bryant and LeBron James.
Each of these players has left their mark and each has their own style in which they approach the game. They both can put up points and they can both put their entire team on their back when the situation calls for it. But only one thing sets these two players apart.
Championships.
Kobe Bryant is the only one of the two that knows what it takes to win it all and he's done so more than once. In fact, he's won five of them.
LeBron has yet to win his first. It's the whole reason why he "took his talents to South Beach" so he could join Dwayne Wade and Chris Bosh in order to get that illusive title that he's been searching for since he came into the league.
James has had a taste of what it's like to be in the championship game with the Cavaliers but his lack of experience in big games showed that he wasn't ready to go to the next level.
Now that he's with Miami he doesn't have to worry about carrying the load. He doesn't have to worry about being the main guy. But it certainly won't stop him from trying.
Can we compare the match-up between these two superstars to other match-ups from years gone by? Is this another Michael Jordan and Magic Johnson? How about Magic and Isaiah Thomas? Clyde Drexler and Dominique Wilkins?
There have been so many big time showdowns in the NBA over the years but I don't believe that you can compare any match-up in this era to any of the big names of yesteryear.
You can't and shouldn't compare Kobe Bryant or LeBron James to guys like Michael Jordan, Magic Johnson, Clyde Drexler, Dominique Wilkins, or any other big name that made the NBA what it is today. You can't compare the games one a young player in today's game to a veteran player of yesterday's game.
The game is faster and selfish where 20 years ago the game was slow, methodical, and unselfish. The no look pass and the fast break were a thing of beauty where today it's the jump shot, the three-pointer, and the big dunks are what makes today's game exciting.
The Lakers and Heat are two teams that may give you a glimpse of what the NBA Finals may look like at the end of the season. And who would mind that kind of championship series?
So when you're watching the game today and you're either rooting for a specific team or just watching as a fan, remember what the game used to be like and the game a lot of us grew up watching and take notice of how much things have changed.
But not only that, watch these two players go about their game and see how they face challenges and big baskets when their team needs them. Watch how they carry their teams when they start to fall behind or watch how they continue to make the game look easy when they're way ahead.
James and Bryant are two phenomenal players to watch. They make today's game exciting and they make the fans stand to their feet and say "wow." That's why the match-up between these two teams on Christmas Day is going to be one to remember.
This is a perfect example of today's game and a showdown of a new era beginning in the NBA. Though this has been coming for quite some time, there hasn't been a match-up of players like LeBron James and Kobe Bryant in quite some time.
You can talk about names like Allen Iverson and Vince Carter all you want, but neither of those guys have the power to thrill a crowd quite like the two players you'll see face off this afternoon.
Love them or hate them, they are the NBA and two names that this league looks to to be what they have become.
This is the kind of game the NBA salivates over and what better day to bring this game to the fans than the one day family spends time together at someone's home with the television on.
They knew exactly what they were doing when they strategically put this game on the schedule.
LeBron James versus Kobe Bryant. A showdown for the ages.