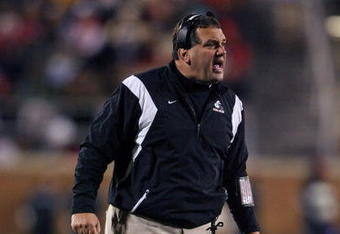 Andy Lyons/Getty Images
San Diego State's football program has seen a drastic turnaround and in record time.
After a 4-8 season in 2009 the Aztecs finished the 2010 season with an 8-4 regular season record and an invitation to the Poinsettia Bowl at their home stadium in San Diego.
The man that led them there? Head coach Brady Hoke. The 35-17 win over Navy in the Poinsettia Bowl on Thursday night was their first bowl win since 1969 and they did it in impressive fashion.
Quarterback Ryan Lindley threw for 276 and two scores while running back and game MVP Ronnie Hillman rushed for 226 yards and four total touchdowns for the Aztecs.
Make no mistake about it this Navy team, led by quarterback Ricky Dobbs, the Aztecs made easy work of was not a bad football team at all. In fact, very much the opposite. But it made no difference, the Aztecs were in their own backyard and in their own stadium.
Navy never had a chance.
Heading in to college football's off season rumors surrounding San Diego State head coach Brady Hoke will undoubtedly start to surface sooner rather than later. Though his name has already been mentioned among a few job openings there's one in particular that might be too enticing to pass up.
Michigan.
If Rich Rodriguez is fired, as some believe he will be, you can expect Hoke's name to be among the leading candidates. We don't know for certain that Rodriguez is in fact on his way out but it seems more certain now than in previous years.
But why Hoke? Isn't he just some college football coach in a mid-major conference out west? Yes he is, but so was Urban Meyer for two seasons at Utah before becoming a two-time national champion at Florida. How many coaches have actually had the kind of success Hoke has had at San Diego State? Can you count them on one hand or do you only need a few fingers?
He already has ties to the school after having been an associate head coach and defensive line coach under Jim Tressell from 1995-2002. After his stint there, Hoke became the head coach at his alma mater Ball State leading them to a 34-38 record in six seasons including a 12-1 record in his final season with the school (2008).
The other name that will come up next to Hoke's is Stanford head coach, and Michigan alum, Jim Harbaugh. He's the man a lot of college football fans believe will be the number one man on Michigan's list. However, there's no indication that he will leave Stanford to take that job no matter how much they're hoping he will.
If Harbaugh remains at Stanford, like some are already speculating, it's Hoke's name that will come up next. If he gets the call and the university's number comes up on his speed dial, he would be a fool not to answer the phone and at least find out what they're offering.
In fact, I'll go a step further. Brady Hoke would be a fool not to take the job if it's offered to him.
Sure I know it's just an assumption at this point because the job isn't open yet but there's a growing consensus that it will be after the season officially comes to a close after the first few weeks of January or maybe after the Super Bowl concludes at the end of the month.
However, if Michigan wants to get a big jump on recruiting and doesn't want to lose any ground it would behoove them to replace Rodriguez as soon as possible.
There are those that are going to mention Hoke's contract extension at San Diego State but, as we all know, not all contract extensions keep head coaches from accepting their dream job at their alma mater. It shouldn't stop the Aztecs' head coach from doing the same.
You can talk about loyalty and you can talk about wanting to be at San Diego State and wanting to achieve greatness there, but greatness at Michigan far outweighs any amount of success in the Mountain West Conference.
If you don't believe me, ask TCU why they're leaving the conference.
If it weren't for a college football coach in a sleepy Southern California town, they wouldn't have much to celebrate sports wise. The San Diego Padres missed the playoffs and the Chargers are in danger of doing the exact same thing. The Aztecs have given the sports fans in that town something to cheer about.
Brady Hoke has done something that a lot of other coaches at San Diego State haven't been able to do and he's done it in a shorter time period than a lot of people thought he would. He's done a job that should absolutely be commended and he's brought the right players in to get the job done.
In the back of his mind he has to know that there is a possibility his dream job will come open and he has to know that there's only one guy ahead of him on their wish list.
If that one guy turns the job down it's up to Hoke to decide whether loyalty will win the day or if his dream job will steal his heart away and lead him back to Ann Arbor.
He'd be a fool not to take it. It's the only shot he's going to get.