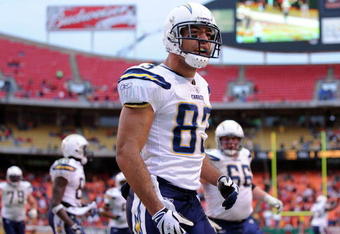 Harry How/Getty Images
Norv Turner was walking around Fashion Valley when he caught a bright color of red out of the corner of his eye. It was him! The big man in red!
Turner ran to the line that was already forming to see Santa Claus and pushed his way past the kids and their parents who had already been waiting for quite some time. Apparently his need was more important than theirs.
"SANTA," Turner exclaimed, "I know what I want for Christmas." Santa thought Turner was a little old, not to mention heavy, to be seated on Santa's lap but the jolly old elf figured it seemed important.
"Ok, what is Norv?" Santa replied back.
"I know we haven't been all that good this year. Ok, we've been a lot less than good but I know what I want for Christmas, Santa! Please give us another shot at the playoffs, I promise we can get to the Super Bowl."
Ok so I'm not much for visual effects as far as San Diego Chargers head coach Norv Turner sitting in Santa's lap, but you get the idea. It was my attempt at humor, so sue me.
While the above scenario would never happen, at least I hope it wouldn't, the San Diego Chargers are hoping for a little help this weekend in order to get back into the playoffs and hopefully make another run at the Super Bowl.
It never should have gotten to this point. They weren't a team that anyone thought would need help just to get back into the playoffs at this point in the season. Most thought the Chargers would be the favorite in the AFC. I think most thought that about the Indianapolis Colts as well, but I digress.
We can talk about the lack of solid performances from different players and we can talk about games their special teams play which was anything but 'special.' But the main factor the Chargers' 2010 season has been injuries.
Whether it's been to rookie running back Ryan Mathews, tight end Antonio Gates, guard Louis Vazquez, wide receiver Buster Davis and a host of others, it's been tough for the Chargers to keep the same players together for the entire season.
You can see how much of a toll it's taken on them.
Not that the 2010 San Diego Chargers can blame all of their problems on injuries, or the holdout of wide receiver Vincent Jackson, but it's something that they and their fans can look back on as something that kept this team from doing what they should have been capable of doing.
As it stands right now, the Chargers will need to win their final two games and do so without tight end Antonio Gates to be able to have even a shot at winning the AFC West title. Though it's not impossible, they will need losses from both Kansas City and Oakland to make that a reality.
This is not where this team wanted to be at this juncture. If you were to ask them, they would more than likely tell you that they would rather have a comfortable lead in the division and be able to rest some of their starters for the stretch run of the playoffs.
Instead they will have to rely on quarterback Philip Rivers, running backs Ryan Mathews and Mike Tolbert, wide receivers Vincent Jackson and Seyi Ajirotutu as well as the rest of their team to be able to do what they can do on the field and hope the rest works itself out.
Santa isn't going to leave them a gift-wrapped trip to the playoffs under their Christmas tree. They had their chance to keep their destiny in their own hands.
Now they'll have to leave it in someone else's hands and hope that it works out exactly the way they want it to.
It hasn't been a season to remember, but it's not over yet. Win, and let the rest take care of itself.