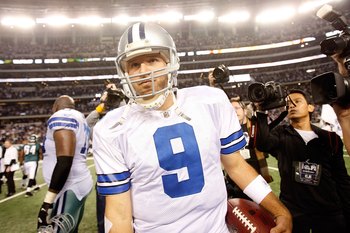 Ronald Martinez/Getty Images
The Dallas Cowboys are about to carve another notch in the 'Tree of Disappointment' as soon as this season comes to a close.
As of right now, it has 15 marks in it. When this season comes to an end the team will put a 16th mark on it. Those marks signify the number of consecutive seasons without a Super Bowl title.
Over that same time span the Cowboys have just one playoff victory. No Super Bowl appearances, no NFC titles, just a single playoff win which came in 2009.
Yes, a change needs to be made in Dallas. Only problem is, will it be the correct change or just one good enough for Jerry Jones to still have his thumb on this ball club? Or maybe a little of both?
When Jones fired then head coach Wade Phillips, offensive coordinator Jason Garrett took over as the new head coach and has since picked up four wins in the seven games he's been in the position. Doing so without Tony Romo, maybe more impressive than most would think.
But with that change came questions from media and fans alike as to who would be the man going forward. Would Garrett remain in the position for the long term or was Jones looking for "his guy" behind the scenes? The answer to that question would depend on who you ask.
Newy Scruggs of NBC 5 doesn't believe Garrett is the right guy for this team going forward not to mention not being the guy that can lead this team to another Super Bowl title. On the flip side of the coin, Richie Whitt of the Dallas Observer believes the opposite and thinks Garrett deserves the job.
For those that have been fans of this team and have watched what has transpired over the last five to 10 years, you know that Jones will only hire someone that he can control. A 'yes man' if you will.
Garrett is exactly that. Phillips was exactly that. Bill Parcells was not that.
When the season ends for the Dallas Cowboys you'll hear the rumors start being thrown out quicker than you can keep track of them. You'll hear names like Bill Cowher and Jon Gruden along with Jason Garrett and several others thrown around and there will be numerous opinions as to who it will be.
If the Cowboys are going to turn things around, Garrett is not the guy to do that. No matter how many people believe Jones will bring him back as the next head coach of this team, it's not the right decision for this team's future.
Jerry Jones wants two things. Control and another Super Bowl Championship banner being hung at his stadium. But when push comes to shove, will he be able to give up one to get the other? We've seen over the last 15, soon to be 16, seasons that total control has given this team nothing but a single playoff win. It hasn't given this team a lick of success.
There's another factor in the story of success for this team. It's quarterback.
This has been a topic that I haven't given fans the warm fuzzies when I bring it up. While most would agree they don't want Garrett as their head coach, they are still hanging on to their love affair with Cowboys' quarterback Tony Romo.
We can sit here and argue just how good Romo has been since he's been the starter and what he's been able to accomplish. However, at the end of the day, what has he really accomplished?
You can compare his numbers to quarterbacks like Peyton Manning and Tom Brady and try to say he's just as good but, in the end, both Manning and Brady have Super Bowl rings.
Romo does not.
So now that I've picked on both Jason Garrett and Tony Romo, the next question that I would normally ask someone that doesn't want a certain player around is, who do you want instead?
I'm glad you asked.
If Jerry Jones really wants a Super Bowl there's only one decision and one phone call he needs to make. Bill Cowher. Only problem with Cowher is he wants complete control of player personnel decisions as well as his own coaching staff. Something Jones isn't like to give any coach.
Here's how I look at this situation. If Jones really cares about this team and really wants to celebrate a Super Bowl Championship at the stadium that he built, than something has to give. Jones needs to give up control or risk making it 17 seasons or perhaps even more.
Cowher is a proven winner, something the Cowboys desperately need. He's a guy that can bring out the best in his players week in and week out. If Jones is really serious about turning things around, this is his guy and this is the right time to make that move.
As far as the quarterback position goes, that's more of an open-ended question. Romo hit the sidelines during their week seven loss to the New York Giants. Since then, the team has won just three of their next seven games, though there really hasn't been a lot to blame on backup Jon Kitna who has played better than a lot of fans, and media, expected.
That being said, 3-4 in seven games is still not playing Cowboys' football. They need someone that can light up the scoreboard and move this team up and down the field every time he's in the game.
Romo, Kitna and third-string quarterback Stephen McGee out of Texas Tech don't exactly have that capability. Kitna has held his own but he's also had his share of problems.
One quarterback who's also had his share of problems, and could also find his way out of the city he's currently in, is Cincinnati Bengals' quarterback Carson Palmer.
I know the name is going to surprise a lot of you but this is a quarterback who has a lot of talent and can do some big things with a team like the Cowboys. Over the years, he's been able to show what he can do when he has the right players around him.
Though he's struggled throughout the 2010 season, he hasn't had nearly the kind of players he had in his first few years with the Bengals. Bringing him to Dallas and putting the kind of players that the Cowboys have around him would allow him to be the kind of quarterback he can be.
There are those of you who are going to disagree with me and that's fine, that's why we have debate, it's why sports is what it is for a lot us fans.
But the bottom line is the Dallas Cowboys need to make a change if they're going to bring a Super Bowl back to Dallas. Those changes need to start immediately.
If they're not made, Garrett and Romo will remain with the team and it will be the same old same old over the next few seasons.
Maybe a few good regular seasons are in store but when it comes to the playoffs, they'll end up falling short as they've done for the past 15 seasons.