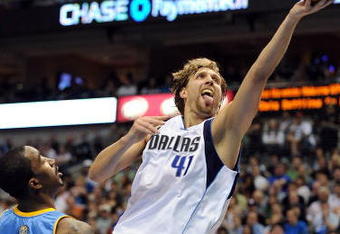 Ronald Martinez/Getty Images
When I was growing up, I used to watch the Los Angeles Lakers with guys like Magic Johnson, A.C. Green, Byron Scott, James Worthy and Kareem Adbul-Jabbar.
Showtime as the fans at the Great Western Forum called it during those days.
One of the teams they always had a rivalry with during a few of those seasons were the Dallas Mavericks. That rivalry has hung on to some extent but it's not nearly as big as it used to be, other than the fact that no one in Dallas likes anything having to do with the Lakers or Los Angeles for that matter.
Living in Dallas, I get to hear a lot of about every sports team in the area from the Dallas Stars of the National Hockey League to the Texas Rangers of Major League Baseball.
However there are two teams you will hear more about in this area than any other sports teams regardless of what season it is. It's the Dallas Cowboys and the Mavericks. This town wasn't a baseball town until the Rangers went to the World Series in 2010, than every bandwagon jumper made sure they got on as if they had never left. As for hockey, it used to be big here but those days have long since passed.
The Cowboys will always be the top draw for no other reason than it's professional football regardless of the fact that they have one playoff win in 15, soon to be 16, seasons.
Than there's the Mavericks. They're a team that this town that has left this town somewhat confused because they're not exactly sure what to make of them. They haven't won an NBA title and they've only gotten close once (2006).
They've made it into the playoffs in each of the last nine seasons but two of the last three they haven't gotten out of the first round.
They are off to a great start this season and it has everyone in Dallas/Ft Worth buzzing. Could this be the Mavericks' year? Could this be the year they finally go all the way and bring back the NBA Championship?
While there are a few media guys who are buying up those possibilities, I see too much in their history that shows me otherwise.
Sure they've run off a 12-game win streak already this season and yes they've won 10 of their 11 games away from the American Airlines Center, but I'm still not sold that this team is really ready to do what they haven't been able to do through the team's history.
I'm also not sold that Dirk Nowitzki is the guy to lead them there. Yes, I said it. The same way I feel about Tony Romo not being the right guy at quarterback for the Cowboys, I don't believe Dirk Nowitzki is the right guy to lead the Mavericks somewhere they've never been.
I know the Maverick fans love him because he's the face of their franchise. There's no question that he has tremendous talent and I know that he's arguably the best player they've had on their roster for quite some time, or maybe ever.
Do you really want to blame the guys around him for this team's failure through the years? Is he really blameless for the first round exits and the disappointing NBA Finals loss to Miami in 2006?
Maybe. Maybe not.
We can go back in the past and argue year after year and point to all the things he's done for this team. We'll just have to agree to disagree and leave it at that.
As far as this year is concerned, I'm not ready to buy stock in the Dallas Mavericks. I'm not ready to jump on the bandwagon and ride it to what a lot of people believe is another NBA Finals appearance, maybe against Miami.
But what I see going back through their playoff appearances only shows me what they haven't been able to do. It only shows me that though they can flex their muscles during the regular season only to find out that those muscles aren't as big as they wanted others to believe.
The Dallas Mavericks since 1984:
1st round playoff losses (6)
Conference Semi-final losses (6)
Conference Final losses (3)
NBA Finals losses (1)
The most telling season, at least over the last 10 years, was in 2006-07 one year after they had lost to the Miami Heat in the NBA Finals. They won 67 games during the regular season only to be ousted four games to two in the first round of the playoffs by the Golden State Warriors.
So no matter how many games the Dallas Mavericks win during the regular season, it won't mean a thing if they can't keep the momentum going into the playoffs.
Anything but an NBA Championship would just be another disappointing season in a long line of disappointing seasons.
While it's too early for me to say that history will absolutely repeat itself, I don't see anything in this team that makes me believe it won't.
As they say, the proof is in the pudding and the proof has me keeping my money in my pocket instead of putting it down on this team.
Sorry Maverick fans, I'm just not buying what the team is selling.