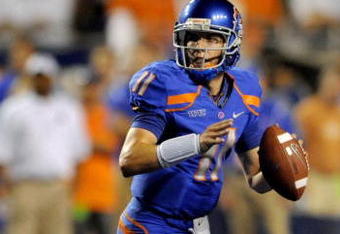 Steve Dykes/Getty Images
If there's one thing Utah should have avoided it was the apparent pushing and shoving matches both teams got into during their welcome reception for the MAACO Las Vegas Bowl.
Towards the end of the reception, some of the players exchanged words and shoves and the players along with both teams had to be separated at the Hard Rock Cafe.
Utah, you're going to regret that you opened your mouth at all.
The Boise State Broncos are perhaps one of the most dangerous mid-major teams who, after a disappointing loss to a good Nevada team, might have still been doing the "feel sorry for us" attitude and hanging their heads wishing they had played that game differently. Doing that would have landed them in a BCS bowl game.
But leave it to Utah defensive end Christian Cox to wake up what was a sleeping giant. Not only did he fire his shot across the bow, but he guaranteed a win over Boise State while the team was being honored at halftime of a basketball game against Pepperdine.
According to an
article on Yahoo Sports
, Cox told the Utah fans, "I promise a victory against Boise State in Las Vegas. You better be there."
Let me take you back three years when Wyoming was on this end of the guarantee then getting that used against them in a 50-0 beat down at the hands of Utah
After that game, Utes head coach Kyle Whittingham wasn't shy about taking his own shot at Wyoming's guarantee. "You open your mouth, it's not like it just goes by the wayside. That's not how it works. You open your mouth, you're accountable. You are accountable for what you say and what you do. You can't just say things and then just sweep them away."
I will give Cox a small pass on his momentary lapse in judgement because when you're in front of the home fans and they're cheering and whistling, you get caught up in the moment. This kind of stuff happens.
Unfortunately for Utah, Boise State isn't going to think like me and isn't going to let Cox or the rest of their team off the hook for a stupid comment.
Heck, I would give him a complete pass but when teams make guarantees I usually perk right up. Only problem in this case is Utah has looked completely pathetic since they were embarrassed by TCU, 47-7, on November 6th.
To add insult to injury, the Utes will be without starting quarterback Jordan Wynn who's out after undergoing shoulder surgery and their passing defense has apparently taken the rest of the season off. Though they've been good against the run, they gave up over 500 yards passing to San Diego State and lost to a less than poor Notre Dame team just one week after losing at home to the Horned Frogs.
With all that being known, Utah should be the last team making guarantees against anyone. Perhaps Cox didn't realize just how bad they looked down the stretch and maybe he thought they were playing Wyoming again.
Whatever his excuse was, he is going to regret opening his mouth.
Broncos' head coach Chris Petersen is not the kind of guy to run up the score but after this kind of shot and seeing as it's the last game of the season, I wouldn't put it past him to put a couple more trick plays in the bag and conveniently forget the score late in the game when he punches another one in.
And oh by the way they have a quarterback, Kellen Moore, who stood on the same Heisman trophy stage with Stanford's Andrew Luck and Auburn's Cam Newton who ended up winning the award. He's kinda good.
Not only that, but they have a defense who can make anyone look like a division two or a high school team on any given day.
If Utah gives up more than 500 yards through the air against San Diego State and quarterback Ryan Lindley, just imagine what Moore will be able to do with wide receivers like Austin Pettis.
There's no question this is not the bowl game Boise State wanted. There's no question that they still feel like they deserve to be in a BCS game. But where they are is where they are and they need to make the most of it.
There might have been a letdown in store, but not when a shot has already been called and the sleeping giant has been awoken after a nap that didn't last very long.
You know how you feel when you're woken up after not getting a lot of sleep? Yeah, that's what Boise is feeling like right now. They're angry, they're bitter and they have a huge chip on their shoulder.
This might be a blowout of epic proportions. Maybe Christian Cox should have thought about what he said before he said it.
Too late.