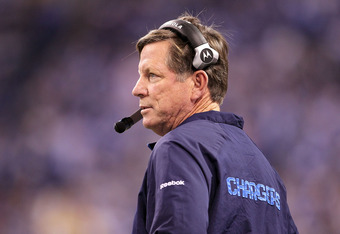 The San Diego Chargers have underperformed.
The above statement is true and can't be argued against. The 2010 San Diego Chargers haven't been the team that most of the fans, and media alike, thought they would be. They've lost to teams they shouldn't be losing to and their record says they're far worse than what was expected of them before the season began.
While I'm not going to put all the blame on Norv Turner, he does deserve most of it. Enough for me to believe the Chargers are better off without him.
In fact, I don't know why they didn't do what Dallas Cowboys' owner Jerry Jones did with his team and fired their head coach. The Cowboys are playing better football since that day, are they not?
So what's the holdup? Is the Chargers front office so naive to think that Turner is the guy for them and that this is a coach that can turn things around?
There's no telling anyone that they don't have the right players, because they do. Sure the team has had injuries this season and it's hampered what they've been able to do. They've deal with injuries to running back Ryan Mathews, tight end Antonio Gates, and a few others. Injuries that have kept them from doing the kinds of things San Diego is used to seeing.
But something tells me the fans aren't going to use that excuse to explain 100% of why the team is struggling. If that were the case, there wouldn't be so many blacked out games this season. The fans haven't shown up like they have in the past.
Could it be because they know the same thing I know? Or is it because San Diego only supports winning teams? Well, that could be part of it (see: San Diego Padres fans).
I'm not going to sit here and take shots at the fans because you can believe me when I say the fans in San Diego have dealt with more disappointment in sports than a lot of small market sports towns. I could get into detail, but that's not what this article is about.
Now, Coach Turner, back to you.
Players will tell you that they support their coach basically because they have to. There isn't a player in the NFL, unless your name is Terrell Owens, Chad Ocho Cinco or Albert Haynesworth, that is going to say openly that he doesn't want to play for a certain coach.
While some might wonder privately if Turner is the right coach to lead a team as talented as the Chargers, they won't tell the media that. At least not on the record.
So I'll say what they won't. Norv, it's time to move on. Although, I don't know if the Spanos brothers will do what they need to do.
Here's a few facts that they should have looked at before they hired him. Turner hasn't had a winning record anywhere he's been.
In seven seasons with the Washington Redskins, Turner finished with a combined record of 49-59 and finished no better than 10-6 in any one season.
He moved on to the Oakland Raiders which didn't go too much better. In two seasons, Turner finished with just nine combined wins and a total combined record of 9-23.
That would lead me to wonder what the Chargers saw in him when they hired him prior to the 2007 season. While they've finished with more than 10 wins twice during his tenure, he has had tremendous talent on the team that, in my opinion, has made him look far better than he actually is.
Say what you want about my opinion, but there are a lot of Charger fans who don't disagree with the what I've been saying.
The Chargers have too much talent to be playing either as poorly as they have this season or, when they play like the top team in the NFL, get ousted in the playoffs. In one way or another, this team has not gotten over the hump.
There are other coaches out there that are available and it would behoove the Chargers ownership to make a change and give this team the shot in the arm that is long overdue.
If a change isn't made after this season concludes, a change that will put at least a little belief in the eyes of Charger fans, than I don't know that any more excuses can be made for this franchise.
Either they want to win or they don't.
If they want to win, if they want to bring a championship to San Diego, then a change needs to be made.
Norv Turner is not the guy that can lead this team to be anything but unimpressive