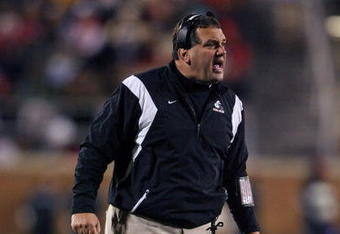 Andy Lyons/Getty Images
Rich Rodriguez has been rumored to be on the hot seat for at least the last few years. It was never a matter of when he was fired, but if.
Well, apparently that time has come if you believe the word coming from
Gregg Henson
of 105.3 FM in Dallas, TX.
Henson, via his blog says, "[San Diego State head coach] Brady Hoke is a dark horse candidate to replace Rich Rodriguez at Michigan if there is a change and [Stanford head coach] Jim Harbaugh doesn't want the job. Hoke has even gone as far as to tell San Diego State that he would leave for the Michigan job."
The only reason I find that a tad bit curious, not to say that I don't believe Henson's sources because he's never been led astray before, but Hoke just signed a contract extension with the Aztecs a few weeks ago. If he was that interested in the Michigan job, why sign the extension especially since his first contract ran through the 2013 season?
Well, this article from
Brent Schrotenboer of the San Diego Union Tribune
may lend some credence to Henson's sources especially since Hoke just about admits that Michigan is his dream job.
When asked if Michigan had a opening at the head coaching position Hoke said, "we wouldn't have signed an extension."
Michigan would love to have Harbaugh, but if he turns the job down it might be Hoke's job to lose.