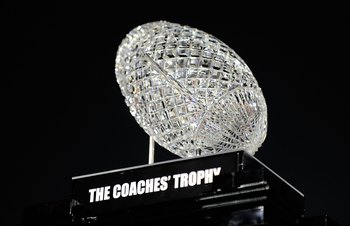 Kevork Djansezian/Getty Images
College football season is over. Ok, not really but we won't be able to wake up early on Saturday mornings anymore and turn on College Football Gameday to see Lee Corso don the head gear.
However, the recruiting war is hot and heavy and we're getting that much closer to watching high school seniors "pick their hat."
If that doesn't get you hot and bothered for the 2011 college football season, it's ok, we have our pre-season top 10 list.
Agree if you want to, disagree if you must, but this is just one man's opinion.
1. LSU
2. Oklahoma
3. Oregon
4. Alabama
5. Wisconsin
6. Stanford
7. Boise State
8. TCU
9. Oklahoma State
10. Texas A&M