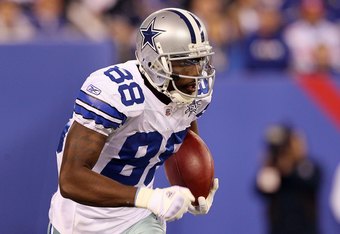 Jim McIsaac/Getty Images
With all the goings on with the Dallas Cowboys this past off season including hiring Jason Garrett as their new head coach, there was an interesting rumor that came out today.
As most of you fans know, wide receiver Dez Bryant surprised a lot of people this season but missed the last few weeks because of a fractured ankle. Next to that, he was a guy that the Cowboys loved at wide receiver.
At least I thought so.
Making it's way around the Twitterverse today was a rumor that the Cowboys were allegedly shopping their first year player for a pick in the first round of the NFL Draft.
Keith Whitmire of Fox Sports Southwest
has a piece out this afternoon talking about this apparent rumor and shoots down that the team would even be remotely curious about trading a guy that Cowboys' owner Jerry Jones loved from the moment he drafted him.
What Whitmire also talks about are the whispers that Bryant wasn't the most focused person on the team. He apparently was late to several team meetings and didn't exactly study the playbook as much as he should have.
Late to team meetings? Didn't study the playbook? Maybe the Cowboys see another Terrell Owens forming in Bryant. Then again, there may be nothing to this talk and it'll die off in the coming days or weeks.
But, on the flip side, this talk may heat up especially with the draft just a few months away. We know Jones loves him. Why else would Bryant be handed the No. 88? A number worn by two big names in Cowboys' history. But could new head coach Jason Garrett not be a fan of Bryant's and could that really be the writing on the wall that sends the rookie out of town?
The problem with the reports that surfaced today is the fact that we don't even know if there's going to be a season in 2011. As far as we know, with no Collective Bargaining Agreement signed, we could be looking at a work stoppage and silent NFL stadiums around the country.
So with so much unknown at the moment, why trade what seems to be a very talented young man for a draft pick that may not be anywhere near the caliber of Dez Bryant and someone that may not even see a practice or game until the 2012 season?
Those questions would lead me to believe that these rumors have absolutely nothing to them. Although, that's been said before about rumors we thought had nothing to them and watched as they became reality.
For right now, Bryant is still a wide receiver for the Dallas Cowboys. Who knows, maybe all the talk is a shot across the bow and a wake up call for someone who thought he could do what he wanted to do because the owner liked him.
If this is a preemptive strike from the Cowboys it's one that couldn't have come at a better time. They could be bluffing and it could get the reaction they need.
It could also be the start of what could be one of the more shocking moves for this team in quite some time. We won't know until someone from the Cowboys comes out and denies all the talk that's been going on today.
Until that time, I'm not so sure a team like the Dallas Cowboys would be ready to give up on a player they've had for a single season. A player they drafted with their very first pick in the 2010 NFL Draft.
If I'm wrong about this, then maybe this team is starting to change their stripes and becoming more serious about winning games and not just selling merchandise.
If that's the case, it's about time.