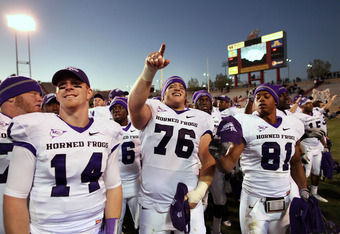 Eric Draper/Getty Images
The TCU Horned Frogs, fresh off a big win in the Rose Bowl over the Wisconsin Badgers, will be playing their final season in the Mountain West Conference before they become the newest members of the Big East Conference.
While the Utah Utes and BYU Cougars will no longer be members of the Mountain West, a newcomer will join the fray when the 2011 season gets underway in just over seven months.
Boise State.
The Broncos made their decision to jump ship before BYU's decision to go independent became official and long before TCU accepted an invitation from the Big East to become a member of their conference. Had they known these moves were coming, I'm not sure the Broncos would have made the move so quickly. They believed they had a shot at an automatic BCS bid in the future. Now they're not so sure that bid will ever come.
However, the season will roll on and it will feature a conference game between two mid-majors who spent most of the 2010 season making college football headlines week in and week out. Neither team gave any ground to those around them and both refused to lose.
As the season was winding down it looked as if the BCS was going to have to make arguably their toughest decision since they came into existence. Putting both schools into a BCS bowl game.
Fortunately, or unfortunately for us BCS haters, Boise State fell victim to the Nevada Wolfpack.and allowed the BCS to breathe a collective sigh of relief.
However, TCU remained unbeaten which earned them the Rose Bowl bid.
Now, with the Texas Christian University heading for greener pastures after the 2011 college football season, they could end up
losing their home game
against Boise State. To no one's surprise, the university isn't at all happy with that possibility.
Neither am I.
I've debated this topic with friends as well as through the Twitterverse earlier this morning. I'm surprised at how many people are ok with taking the home game away from TCU and handing it to Boise State. Yes, I said handing it to them. What would you call it?
While MWC commissioner Craig Thompson says most of the athletic directors within the conference are ok with this decision, TCU won't be the only team affected. If the game is moved, Air Force, San Diego State, Wyoming or New Mexico will also be forced to move their "home" game against the Horned Frogs.
This feels too much like sour grapes from the MWC. Not only are they going to vote on handing a home game to Boise State but TCU will not be able to have a say in the decision because they are a lame duck university.
For those that argued this decision to move the game is only because TCU is jumping ship I have this question to pose to you. Why didn't they take home games away from Utah or BYU in their final season?
The answer to that is simple. This has more to do with doing everything the Mountain West can do to make Boise State look good than trying to screw TCU. If this was really about being upset that TCU is taking the prettier girl to the prom, they would have screwed over the aforementioned two schools for the same reason.
Let's take this a step further. Not only is the MWC "taking their ball and going home" but apparently they are too afraid the Broncos couldn't win this game on the road. They are trying to make absolutely sure they stack the deck in Boise State's favor.
This is a bad move on several levels. It doesn't matter that one school is leaving while another one is coming in. It's a move that shouldn't be made by them, the Western Athletic Conference, or any other conference for that matter.
Thompson is trying to save face by hyping up their new addition. They have a new toy and they want to show it off.
The ultimate backfire in this story will be watching TCU go to Boise and come away with a win. If that scenario happens it will be the Horned Frogs that get the last laugh. Especially if they run the table and make it back to another BCS bowl.
This is a bad move for the Mountain West no matter how you look at it. It has the potential to go very wrong and they don't need any more bad press.
Let's face it, they already look like the old version of the WAC minus BYU and Utah. Screwing your best program in 2010 just makes you look that much more foolish.