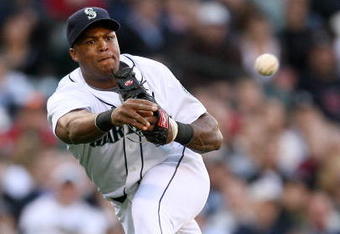 Otto Greule Jr/Getty Images
Update: 1/4/2011 2:15pm CST -
Deal is official. The Rangers signed Adrian Beltre to a six-year $96 million deal which is still pending a physical.
Update: 1/3/2011 10:02am CST -
Apparently this story isn't as dead as we thought it was. According to
Enrique Rojas of ESPN.com
, the Rangers and Adrian Beltre are apparently close to an agreement on a multi-year deal.
Update: 10:25am CST -
Evan Grant is on this story and reports,
via Twitter
, there's no truth to the signing.
I'll make this short and sweet since this is just a rumor for now but
Evan Grant of the Dallas Morning News
tweeted this morning that a report out of the Dominican Republic is saying the Texas Rangers and free agent third baseman Adrian Beltre have agreed to a six-year $96 million deal.
Of course there's no official word from the Rangers themselves or from Beltre's camp so we can only treat this as a rumor.
If this does come to fruition what does it mean for Michael Young? Will they move him to the DH role and Beltre to third base or vice versa?
The Rangers have been surprisingly quiet since they lost out on Cliff Lee just a few weeks ago and I was wondering if they were going to do anything at all.
When there's confirmation of the deal, we'll let you know.