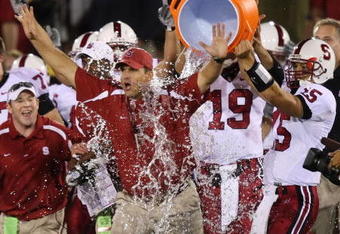 Lisa Blumenfeld/Getty Images
Jim Harbaugh isn't going to Michigan, that much we're sure of after reports surfaced this morning that a deal between the Stanford head coach and the Wolverines fell apart over the weekend.
If the deal fell apart over the weekend there had to be a reason for that and I don't believe it has anything to do with money. He has a solid job at Stanford and no matter how much he wants the job with the Wolverines, with his wife just giving birth, you better believe she has a say in this as well.
Don't get me wrong this isn't a job that a coach like Jim Harbaugh shakes his head at. This isn't a job that he doesn't take seriously or want in the worst way. But when family gets involved and you're in a situation where you can make your family comfortable, things are always as clear as they once seemed.
According to one source I spoke to who has ties to the university, he still believes Harbaugh is going to be the guy. He also told me if Harbaugh isn't hired by the Wolverines, Rich Rodriguez will stay put. Seems far fetched to me but this guy hasn't led me astray yet so I'll buy in to what he's selling. At least for now.
So let's assume for a minute that the Stanford coach isn't the guy and let's forget for a minute that I think this deal is dead for good. Who is next in line and is there really a "short list" of candidates that Michigan is going to look at?
For those of you that have been on the blog before you know I've talked about Boise State head coach Chris Petersen in terms of deserving a bigger coaching job. But every time I bring his name up, he always seems to surprise me by staying with the Broncos but I know it's for reasons that have nothing more than family to do with it. I admire that.
It's that reason alone that I'm actually not going to talk about Coach Petersen when it comes to Michigan. In fact, I'll take him completely out of the running. Boise State fans can thank me later or they can sent me a box of girl scout cookies, I'm completely fine with both as long as the cookies don't have peanut butter in them.
Now that we have Petersen's name out of the way, it's time to talk about who the job could very well go to because his name is going to get a lot of run around San Diego as well as Michigan. It's a name that I've already talked about at length when it comes to the job in Ann Arbor which is about to come open at any time now. Especially after they got embarrassed by Mississippi State.
The name that I will talk about is a guy that San Diego State fans know all too well only because he's the Aztecs' head football coach, Brady Hoke.
He's already gone on the record when it comes to the job in Ann Arbor and it didn't hurt his cause when he made it known that it was his dream job. Problem is, I'm not sure Hoke knew that he would become a top candidate when he made those remarks. I'm almost positive he figured Harbaugh was going to get the gig so there was no reason to say anything less than what he meant.
Now that he seems to be out of the picture, at least for now, Hoke has to know that his name is going to get written in a papers from San Diego to Ann Arbor and everywhere in between.
For those of you who think he's not the right guy for the job, I would think again. You might be in love with Stanford's head coach but you might be equally as impressed with what San Diego State's football program has been able to accomplish under their head coach.
He knows Michigan and he's coached there before. He knows a little bit about the pressure of being on the coaching staff.
Before I crown Brady Hoke the next head coach of the Michigan Wolverines, I'm going to let this process play out. There are those that aren't ready to write off Jim Harbaugh just yet. Just because there's a report that a deal fell apart over the weekend it doesn't mean that either side is done talking or negotiating.
He wants the job, that much is clear. Otherwise he wouldn't be talking to Michigan at all. But don't think for a second that the Wolverines are the only team that wants Harbaugh's services.
The San Francisco 49ers are apparently high on the Stanford head coach and it stands to reason that they would offer him a chance to stay in the bay area and not have to change his commute much. Not only that, but the pay day for becoming an NFL head coach, like his brother in Baltimore, would make his family quite comfortable in Northern California.
According to Mike Rosenberg of the Detroit Free Press,
via Twitter
, he says there's no truth to the reports that we've heard this morning and apparently Peter King has the race for Harbaugh down to Michigan and the 49ers. It matches all the reports that have been floating around this morning.
However, Adam Schefter of ESPN.com seems to think that the 49ers could be the lead dog if they can put a compelling enough deal on the table. Could that be the reason the apparent "deal" with Michigan fell apart or was there any deal at all?
This is a wait and see game for right now. The two names you need to familiarize yourself with are Jim Harbaugh and Brady Hoke.
Those are the two names that are going to become very interesting in this race over the next few weeks.