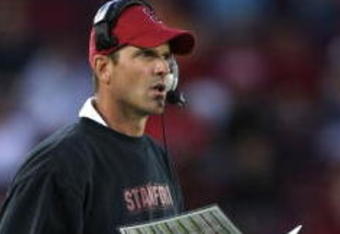 Jed Jacobsohn/Getty Images
For all of you that have followed the rumors surrounding Michigan you know the one name that continues to be tossed around as the top candidate is current Stanford head coach, Jim Harbaugh.
There were rumors this morning that a deal fell apart between Harbaugh and university but a source I just spoke to says there was no such deal and there were no negotiations between the two sides. However, they did tell me that Michigan could have Harbaugh locked up on a contract by the middle of this week.
The source was careful to say that none of this is set in stone but from sources they have close to Michigan as well as current and former players, there is a divide between the Lloyd Carr "guys" and the Bo Schembechler "guys" that needs to be repaired.
I was told that this was not going to be about money for Jim and that he was so angry about what he saw from the Wolverines in their bowl game this past weekend that he is as motivated as ever to make some changes.
That being said, you know I've talked about San Diego State head coach Brady Hoke in the past. I brought that name up with this source and they told me he's the guy that's being pushed by former Lloyd Carr "guys." He's not the guy that is going to fix the problems at Michigan and he's not the "sexy" name that alumni, boosters as well as current and former players want.
Another rumor that had surfaced this morning was the apparent interest in Harbaugh from the San Francisco 49ers. A television rumor a few minutes ago reports that the 49ers have a $30 million deal on the table but I have not been able to confirm there's any truth to that or the amount of years that are involved.
However, I was told that the 49ers would have to double the amount of money offered to Harbaugh to make him think twice. But even if they did, he wants to be a Michigan guy and there's not much San Francisco can do to change that.
Here's the most interesting information of all and something that caught me completely off guard. If the Wolverines can not get a deal done with Harbaugh which, again, is completely unlikely, they will keep Rich Rodriguez for another year and then their top candidate will be none other than former Florida Gators' head coach Urban Meyer who apparently has or had an out clause at both Utah and Florida for ONLY Ohio State and...wait for it...Michigan.
These are all just rumors but they are coming from a very good source who has this from someone who is very much plugged in to the university and would have the inside track on the situation.
Throw Brady Hoke out the window, that's not going to happen.
Jim Harbaugh is the guy they want and the guy they will do whatever they can to get. They know bringing him to Michigan brings him closer to his parents who live in Wisconsin. The flight wouldn't be nearly as long as it is from northern California.
I'll have more on this story as it comes around to me during the "Countdown to the Cotton Bowl" all this week. I'll be on the air with Dave Michaels from 4-6pm CST Monday through Thursday.
You can hit this link
http://bit.ly/dkkS5a
and click on the "Listen Live" button on the upper left hand corner of the screen.