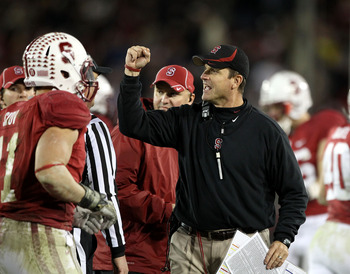 Ezra Shaw/Getty Images
Just when you think you know how things are going to turn out they end up changing and going in a direction you never thought they would.
That's exactly what happened with Stanford head coach Jim Harbaugh who, from what I was told yesterday, was expected to be the next head coach at Michigan. Just over 24 hours later, it seems Michigan is completely out of the running for his services. In fact, according to
Michael Rosenberg of the Detroit Free Press
, if Harbaugh does stay in the college ranks it will be as the head coach at Stanford.
However, don't count out an NFL team from putting together a solid offer to try and lure him to the professional ranks. There was word yesterday that the San Francisco 49ers were the team that was ready to go hard after Harbaugh and reports had the team offering somewhere in the vicinity of $30 million but it wasn't known how many years they would be prepared to offer.
Another NFL team that could get involved, according to
Jason LaCanfora
the Miami Dolphins could also be a player especially since they got to see Harbaugh in the Sugar Bowl last night as his Stanford club blew out Virginia Tech.
Going back to the conversation I had yesterday with a source close to Michigan, he told me if Harbaugh did not end up going to Ann Arbor they would bring back Rich Rodriguez for another year and then use the 2011 off season to chase down former Florida Gators' head coach Urban Meyer.
It's amazing how things change in just 24 hours but, as of right now, it seems as if Jim Harbaugh is not going to be the next head coach of Michigan. The one thing that could keep him at Stanford is the fact that his quarterback, Andrew Luck who's expected to be the top pick in the 2011 NFL draft, could return to school for one more season.
The final answers to Michigan as well as what Jim Harbaugh's future will be should be known either over the next few days or weeks.
The 49ers are one NFL team that's looking for a new head coach but they're not alone. Harbaugh is going to be a hot commodity until he makes his future official.
Until then, let the rumors continue to fly.