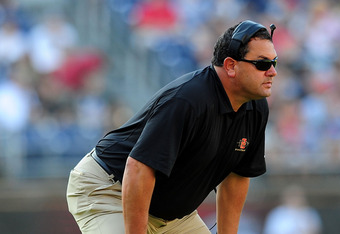 Jacob de Golish/Getty Images
According to reports that are slowly coming out, the University of Michigan has fired head football coach Rich Rodriguez. Fox 2 News in Detroit,
via Twitter
, confirms that report.
This is a move that a lot of us knew was coming and after reports surfaced that Rodriguez would be meeting with the athletic director this afternoon, it was just a matter of time before we learned what his fate would be. Turns out it was exactly what we all knew it would be.
What happens next is anyone's guess. Most of the talk late yesterday centered around Stanford head coach Jim Harbaugh becoming the next head coach in Ann Arbor but as of this morning that possibility seemed all but gone.
I'll give you a few names that will begin to come up now that the news is official.
1) Les Miles - Head coach at LSU
2) Brady Hoke - Head coach at San Diego State
Yes those are only two names that could be considered but they are two guys that have been thrown around before. Miles is a Michigan guy and after talking to a source with ties to LSU, they told me that there was no question in his mind Les would take the job if it was offered. However, the source did say that they didn't think Michigan would offer him the job.
I also talked to a source out of San Diego who has it on good authority from a San Diego State insider that if Jim Harbaugh were to turn this deal down, it's Brady Hoke's job to lose.
Take that for what you will, but that is something I had heard a few weeks ago when the San Diego Union Tribune talked about the very same thing.
There's no question in anyone's mind that Hoke would love to be the next head coach at Michigan but I don't think even he believed Harbaugh wouldn't be the guy.
This could get very interesting very quick. I'll give you updates as they come.