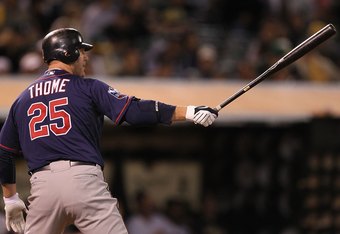 Jed Jacobsohn/Getty Images
When the chase for Cliff Lee ended for the Texas Rangers, one name I thought they should go after or at least have interest in was free agent Jim Thome who had a solid year in Minnesota in 2010.
The general manager as well as the winter meetings went by with no indication at all that the team was interested in him. However, rumors have come out that the Rangers might in fact be going after Thome after all.
I'm not saying Mitch Moreland can't do the job at first base because he did a more than adequate job during the playoffs as well as the World Series. But if you can get a guy like Thome who is a proven offensive threat, that makes for a more solid lineup.
The Rangers have already parted ways with Vladimir Guerrero who forgot to show up during the World Series not only with the bat but he showed why people called him a "defensive liability" when they played in San Francisco.
Bringing Adrian Beltre was something they could afford to do but not for the kind of money they paid him (5 year $96 million). Not to mention the bad PR they have now with long time third baseman Michael Young. However, one can see why they made the move to get Beltre seeing as Young isn't exactly as youthful as he used to be though his defensive skills at the hot corner weren't really that bad last season.
Now that they have Beltre in the mix, it allows them to slide Young either to first base or to the DH role if they are in fact able to sign Jim Thome.
If they can get that done, they'd have a lineup that already boasts guys like Elvis Andrus, Ian Kinsler, Josh Hamilton and Nelson Cruz. Adding a bat like Thome's to an already powerful lineup could make them a definite threat to win the AL West again in 2011.