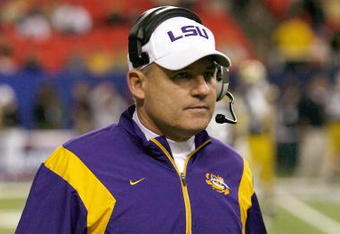 Kevin C. Cox/Getty Images
Just hours prior to the Cotton Bowl at Cowboys Stadium, talk began to spread through the stadium about the possibility of LSU head coach Les Miles getting interest from Michigan about their head coaching vacancy.
Though no one thought Miles would answer any questions about the job before, during, or after the game, it didn't take long to find out that the two sides were going to begin conversations to gauge each other's interest.
We know that this isn't the first time Miles' name has come up. You might remember his name coming up before Rich Rodriguez left West Virginia in the middle of the night to become the new head coach in Ann Arbor.
This time, Rodriguez is out and the Wolverine fans want a big time name to replace him. A guy that's going to bring them wins over Ohio State and another national championship. Though not necessarily in that order.
But Miles isn't the only name that's being talked about when it comes to the biggest vacancy in college football right now. Another name that is on the Ann Arbor radar is current San Diego State head coach, and former Michigan lineman coach under Lloyd Carr, Brady Hoke.
He's not the "sexy name" that most would believe a job like this would require. Sure Hoke has a familiarity with the university as he spent seven years under Carr but that doesn't make him the kind of guy that can come in and immediately turn this team around.
There was a comment made by Yahoo Sports' Columnist Dan Wetzel about how Hoke
would be his choice
if he were a fan. To me that statement makes absolutely no sense at all.
If you polled, just for argument sake, 100 Michigan fans do you really think the majority would be ok with Brady Hoke? Absolutely not and especially not if Les Miles is being mentioned.
When Miles' name first came up before LSU's win over Texas A&M in the Cotton Bowl, I talked to a few people in the press box who agreed that taking the head coaching job at Michigan would not be a step up for him. It would be a lateral step at best and one could argue it would be a step down seeing as Miles has had more success at LSU.
As far as Hoke is concerned, San Diego State is hoping Les Miles takes the job at Michigan for no other reason than they're enjoying the success they had this past season. Keeping Hoke means continuing that ride. One that doesn't look like it's going to end any time soon.
There's been no indication of when a decision is going to be made as to who the next head coach of the Wolverines will be. We do know it's down to two names but only one of those is the right guy for the job.
Whoever is chosen will leave another empty seat that will need to be filled. Will it be LSU or San Diego State?